Medical Negligence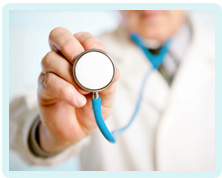 Wrong Site Amputation
Having to undergo an amputation is bad enough in itself. But imagine if you woke up from the general anaesthetic, only to find that the wrong body part had been surgically removed. This is unthinkable, yet sadly it does happen in hospitals across the UK.
If this is something you have experienced, you will be entitled to make a medical negligence claim for the pain and suffering you have been caused. To find out more, get in touch with a solicitor without delay.
Preventing wrong site amputation
There are strict guidelines in place that medical professionals must follow when a patient is admitted to hospital for surgery. This stipulates that a number of checks must be completed before the general anaesthetic, before the first incision is made, and during and after the operation itself.
All these checks will ensure the correct procedure is being performed on the correct patient. This may sound alarming, but lots of operations are carried out every day in a single NHS hospital and the surgical team cannot know every patient. Instead, they are reliant upon the patient's medical records which must be checked and checked again to guarantee that the required procedure is performed.
This is especially true where the precise location of surgery could be confused. For example, if you are having your left foot amputated, the surgical team must make sure it is the left foot and not the right foot that is removed. And as long as all the rules and regulations are followed, this is something that can be readily avoided.
Claiming for wrong site amputation
But unfortunately wrong site amputation does still happen. This may either occur because medical professionals did not complete the necessary checks, or because there were errors and inconsistencies in the patient's medical records.
If this leads to a wrong site amputation, the implications will be devastating for the patient in question. He or she will have needlessly had a limb (or hand, finger toe, foot), and will need to undergo another operation to have the correct body part removed, leaving them as a double amputee. This will obviously be extremely distressing and can lead to serious emotional and financial difficulties.
If this is something that has happened to you, we understand how traumatised you will be. You would never expect to go into hospital for an amputation, only to come round from the surgery to find the wrong operation has been performed. This is something that should never happen and when it does you can be certain that medical negligence is to blame.
You will therefore be entitled to make a claim for the damage this has caused you. Although claiming compensation will not undo the harm that has been done, it may help you feel like you have achieved a sense of justice.
Bookmark This Article?
Can We Help You With A Medical Negligence Enquiry?
Early legal assistance can be vital so please contact us if you would like to discuss your situation. Please call us free on 0800 234 3300 (or from a mobile 01275 334030) or complete our Online Enquiry Form.

---