Birth Injury Compensation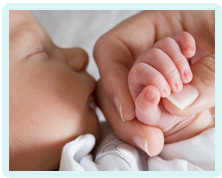 If you have suffered at the hands of a medical professional whilst giving birth, you need specialist Birth Injury Compensation solicitors to advise you quickly and efficiently of your rights and options. Glynns handle hundreds of birth injury compensation claim enquiries every year and can often act for you on a No Win No Fee basis. Speak with the specialists now and find out about your rights.
For an instant assessment of your birth injury compensation claim, including all funding options available to you, please call us free on 0800 234 3300 (or from a mobile 01275 334030) or complete our Online Enquiry Form.
Our Expertise In Birth Injury Compensation Claims
With over 25 years experience we have seen all forms of birth injury, including the most common types below:
How We Help You
We understan that people often find us at a time of uncertainty when they may also be in pain. Rather than worry about this, we ask you to call us free or complete a quick enquiry and then let us talk through your options with you. If you decide to do nothing further after our conversation that is absolutely fine and you will not be charged for our time. We like to be able to give you peace of mind which is why we are always happy to speak with you.
What Do I Pay If I Decide To Make A Claim?
We will explain all of the possible funding options available to you when we speak with you, but broadly these can include the folling:
Conditional Fees ("no win, no fee").
Legal Expenses Insurance (possibly as part of your household insurance policy - we will check this for you)
Private Funding
Structured Payment Plans
Would You Like Help From Specialist Birth Injury Compensation Solicitors?
If you would like to benefit from a service of excellence with total commitment to client care from a small and friendly team, Glynns are ready and waiting to help you.
Please call us on 0800 234 3300 (or from a mobile 01275 334030) or complete our Online Enquiry Form.

---