Medical Negligence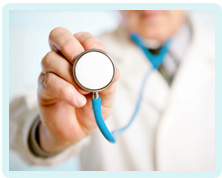 Untreated Shoulder Fractures
If you have had a shoulder fracture that was left untreated – and this has caused further complications – you could be entitled to claim compensation for the pain and suffering you have wrongly encountered. Contact us today to talk to a solicitor about making a medical negligence claim.
Why would a shoulder fracture be left untreated?
A shoulder fracture may be left untreated for two reasons:-
1. It is not diagnosed
A&E departments are presented with a wide variety of clinical presentations every day, with fractures being one of the most common. It is therefore unthinkable that medical professionals would fail to diagnose a patient who presents with a history of trauma (such as a fall) and the typical symptoms of a fracture.
Yet unfortunately fractures do remain undiagnosed. Sometimes doctors will decide a patient has a more minor injury such as a sprain and neglect to carry out any x-rays. Other times x-rays are performed but the images are not accurately analysed.
2. It is thought to be in a good position
On other occasions, a shoulder fracture is confirmed but medical professionals actively choose not to take any action. This is because they believe the bone to be in a perfectly good position, meaning it will heal of its own accord without medical intervention.
However, this is only a suitable course of action if the bone is indeed in the correct position. If the bone has migrated out of place, it will be misaligned when it knits back together. This will leave severe malunion of the joint, reducing function and causing long-term pain. An operation to re-align the shoulder will be required.
Claiming for an untreated shoulder fracture
If your shoulder fracture was not diagnosed, or was left untreated on purpose but this caused a severe malunion, you need to speak to a solicitor about your experience. This is because failing to diagnose and treat a shoulder fracture is unacceptable.
Any reasonably competent medical professional should be able to diagnose a fracture and decide upon the most suitable course of treatment; a failure to do so will amount to medical negligence. As the victim of medical negligence, you are legally entitled to claim compensation for the pain, suffering and financial damages you have sustained.
Medical negligence solicitors
To talk to a solicitor about claiming compensation for an untreated shoulder fracture, get in touch with us today. We will be more than happy to discuss your options with you.
Bookmark This Article?
Can We Help You With A Medical Negligence Enquiry?
Early legal assistance can be vital so please contact us if you would like to discuss your situation. Please call us free on 0800 234 3300 (or from a mobile 01275 334030) or complete our Online Enquiry Form.

---