Medical Negligence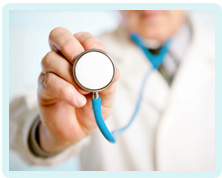 Untreated Duodenal Ulcer
If your duodenal ulcer was left untreated, causing you to suffer complications, you could be entitled to pursue a medical negligence compensation claim. To find out more, please get in touch with us today.
What causes a duodenal ulcer?
A duodenal ulcer is when a hole develops in the lining of the duodenum, which is part of the small intestine. This happens when there is not enough mucous lining the duodenum, causing the acid present inside the intestine to burn away at the lining. The amount of mucous lining the duodenum may be diminished because of:
A bacterial infection caused by the H. pylori bacteria
Non-steroidal anti-inflammatory drugs (NSAIDs)
Therefore a duodenal ulcer is caused either by an infection or by the ingestion of NSAIDs.
Treating a duodenal ulcer
A duodenal ulcer must be treated promptly or the hole will grow in size until the intestine actually splits open. This is called a perforated duodenal ulcer.
To prevent this from happening, a duodenal ulcer should be treated without delay. The course of treatment will depend upon the cause of the ulcer. If NSAIDs are the cause, treatment will involve changing medication. If bacterial infection is the cause, treatment will involve antibiotics and other medication such as proton pump inhibitors.
Diagnosing a duodenal ulcer
The successful treatment of a duodenal ulcer depends upon the ability of medical professionals to make an accurate and timely diagnosis.
A diagnosis will begin by recognising the symptoms associated with a duodenal ulcer. These symptoms include pain in the upper abdomen, a bloated stomach, nausea and vomiting, indigestion, loss of appetite, and pain before eating meals/when hungry.
A patient with these symptoms should undergo investigations for a duodenal ulcer. Suspicions should be especially raised if a patient is taking NSAIDs.
Failure to treat a duodenal ulcer
If a patient presents with the aforementioned symptoms but medical professionals fail to recognise them as being indicative of a duodenal ulcer, the standard of care will have fallen below an acceptable standard. If this causes a patient to suffer complications such as a perforated ulcer, there will be grounds for a medical negligence compensation claim.
To find out more about claiming compensation for a perforated duodenal ulcer, please get in touch with us today. We will be able to suggest whether or not you have been the victim of medical negligence. If so, we will pursue a claim on your behalf, obtaining the compensation you rightfully deserve.
Bookmark This Article?
Can We Help You With A Medical Negligence Enquiry?
Early legal assistance can be vital so please contact us if you would like to discuss your situation. Please call us free on 0800 234 3300 or complete our Online Enquiry Form.

---