Medical Negligence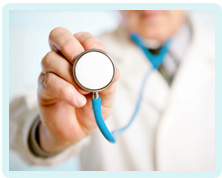 Type 1 Diabetes and Birth Complications
If you have type 1 diabetes you are at increased risk of having large baby. This can result in complications during the delivery, including shoulder dystocia. Medical practitioners should warn you of these risks and discuss the possibility of having an elective Caesarean section instead.
Can I have a natural birth if I have type 1 diabetes?
Women with type 1 diabetes must have their pregnancy closely monitored. As long there are no problems, the patient can try for a natural birth.
However, type 1 diabetes is associated with a greater number of still births and large babies. Because of this, the patient may need to be induced before she reaches full term.
Should I have an elective C-section if I have type 1 diabetes?
On the other hand, you may wish to go ahead with an elective C-section. Even if you attempt a natural birth, the baby may be so large that it is difficult to deliver. Having a larger than average baby is called 'macrosomia' and it is a very common problem amongst people with diabetes.
The size of the foetus should be monitored during the pregnancy to check whether it is safe to give birth by way of vaginal delivery. If the baby is found to be large, medical practitioners should recommend a Caesarean section.
Otherwise the baby could become stuck behind the mother's pubic bone during a vaginal delivery. This is called shoulder dystocia and can lead to a number of complications such as a severe perineal tear for the mother, and brain damage for the baby.
Recent research has also found that diabetic women have 'impaired uterine contractility', meaning the uterus does not contract as well as non-diabetic patients. The reason for this is that diabetic people have reduced muscle mass because of poor glucose control.
Due to impaired uterine contractility, diabetic women can find they labour for hours on end but make no progress. An emergency C-section is then required as the birth continues for too long.
What should I do?
In conclusion, patients with type 1 diabetes need to seek advice from medical practitioners. Doctors should advise the patient of all the risks involved. This will be different for every patient, as some may have a large baby, while some may have developed other issues with their eyes or kidneys. If there is concern about the patient's ability to deliver their baby safely, an elective C-section should be recommended.
If doctors fail to advise a patient about the potential risks and either mother or baby comes to harm during a vaginal delivery, there may be a case of medical negligence. Contact us for more information.
Can We Help You With A Medical Negligence Enquiry?
Early legal assistance can be vital so please contact us if you would like to discuss your situation. Please call us free on 0800 234 3300 (or from a mobile 01275 334030) or complete our Online Enquiry Form.

Bookmark This Article?
---