Medical Negligence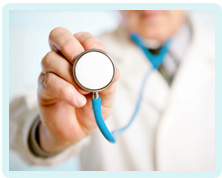 Transobturator Tape (TOT) and Infection
If antibiotics are not administered during the insertion of Transobturator Tape (TOT) and a patient develops an infection, there may be grounds for a medical negligence claim. Please get in touch with us to find out more.
Transobturator Tape (TOT)
Transobturator Tape is a way of treating stress incontinence. Stress incontinence is when pressure is placed upon the bladder, causing urine to leak involuntary. This might happen, for example, when someone sneezes or coughs. Stress incontinence normally arises in people with a weak pelvic floor, which is a common side-effect of childbirth.
If pelvic floor exercises do not help improve stress incontinence, a patient may want to consider surgical intervention. This involves making an incision in the groin and inserting Transobturator Tape (a type of mesh sling) underneath the urethra.
Alternatively, a surgeon may prefer to insert Tension Free Vaginal Tape (TVT). This is exactly the same principle, only an incision is made suprapubically. The method of choice depends upon the surgeon's preference.
Transobturator Tape and antibiotics
Before the operation is performed, a patient must be given intravenous antibiotics, even if there is no sign of infection. This is intended to prevent any possible infections developing, something which is a real risk with Transobturator Tape because the procedure involves inserting a foreign object into urinary tract.
Administering antibiotics before the procedure should help to ensure possible infections do not arise.
Failure to provide antibiotics
If the surgical team fails to provide antibiotics before the insertion of Transobturator Tape, the standard of care will have fallen to an unacceptable level. If this results in a patient suffering a severe infection, there will be grounds for a medical negligence claim.
This is because substandard medical care will have caused the patient to suffer harm, which could otherwise have been avoided with the provision of antibiotics – something which should be standard practice during the insertion of Transobturator Tape and Tension Free Vaginal Tape.
If you have developed an infection after undergoing such a procedure, you need to find out whether antibiotics were administered. If not, you could be entitled to pursue legal action in the form of a medical negligence claim.
Speak to a solicitor today
To talk to a solicitor about the care you received, please get in touch with us today. A solicitor will be able to investigate your case further, establishing whether or not antibiotics were administered before the procedure. If not, you may be advised that you can proceed with a claim. Contact us today to find out more.
Bookmark This Article?
Can We Help You With A Medical Negligence Enquiry?
Early legal assistance can be vital so please contact us if you would like to discuss your situation. Please call us free on 0800 234 3300 (or from a mobile 01275 334030) or complete our Online Enquiry Form.

---