Medical Negligence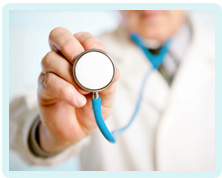 Toxic Epidermal Necrolysis
If medical practitioners failed to diagnose you with Toxic Epidermal Necrolysis in a timely fashion, there may be grounds for a medical negligence compensation claim. Please get in touch with us today to find out more.
What is Toxic Epidermal Necrolysis?
Toxic Epidermal Necrolysis is also known as Lyell's Syndrome, after Alan Lyell who first described the condition in 1956.
Toxic Epidermal Necrolysis (TEN) is a skin condition caused by an adverse reaction to medication or immunisation. If left untreated, the top layer of skin becomes necrotic and falls away, leaving a raw area of skin that looks like a scald.
Problems will usually arise four to eight weeks after starting a new drug. TEN is a potentially life-threatening disease and a patient should be treated in a specialist unit, such as an intensive care unit or a burns unit.
Treating Toxic Epidermal Necrolysis
TEN progresses very quickly, with widespread necrosis usually occurring within three days. Urgent treatment is therefore needed to prevent the spread of disease and improve the prognosis.
Treatment will depend upon how far advanced the condition is. Ordinarily, any medication that may be causing the condition will be discontinued immediately. Treatment will then involve:-
Protecting the raw area with bandages
Intravenous fluids, electrolytes and fluids
Isolation to avoid infection
Failure to treat Toxic Epidermal Necrolysis
If medical practitioners fail to treat TEN, the consequences will be severe. The skin will become necrotic and peel away. The area of dead skin will grow in size the longer treatment is withheld. This can be life-threatening.
If there is a delay in treatment, questions must be raised as to whether or not there was a substandard level of medical care. In some cases, it may be that the patient did not seek medical advice in time, believing that a non-threatening rash was present.
However, there are occasions when doctors fail to diagnose the condition, often due to a lack of knowledge. If a medical error such as this does delay treatment, there will be grounds for a medical negligence compensation claim.
Medical negligence claims
If you would like to know more about claiming for Toxic Epidermal Necrolysis, please get in touch with us today. We will advise whether or not you have been the victim of medical error. If so, we can help you pursue a claim against those responsible, ensuring you obtain the compensation you rightfully deserve.
Bookmark This Article?
Can We Help You With A Medical Negligence Enquiry?
Early legal assistance can be vital so please contact us if you would like to discuss your situation. Please call us free on 0800 234 3300 or complete our Online Enquiry Form.

---