Third Degree Tears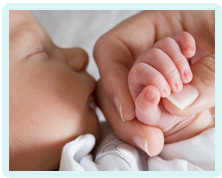 Third Degree Tears During Childbirth
Tearing during a vaginal delivery is an unfortunate but perfectly natural part of childbirth, with approximately 90% of women experiencing a tear of some sort. While the majority of women will have a first or second degree tear, around 9% of women will experience a more extensive third degree tear.
A third degree tear can be classified as an injury sustained during a vaginal delivery that extends to the anal sphincter complex. It can be difficult to predict when this kind of tear will happen, but factors that increase the risk can include the following:-
First vaginal birth;
The baby is larger than average (over 8 pounds 13 ounces);
Labour is induced;
Long second stage of labour;
Assisted delivery (eg. forceps delivery);
The baby's shoulder gets stuck behind the mother's pubic bone.
It is now compulsory for all women to have an assessment for genital trauma (including a digital rectum examination) soon after a vaginal delivery. A third degree tear should, therefore, be identified by healthcare professionals either during or after birth.
Once detected, a third degree tear should be repaired by a surgeon in a well-lit theatre, where the wound will be sutured. After surgery, treatment should continue in the form of antibiotics (to reduce the risk of infection), laxatives (to aid bowel movements) and pain relief medication.
Help Heal Tears After Childbirth
Third degree tears often take a few months to heal completely, and it is normal for a mother to continue to feel sore around the site of the tear during this time. There are also a number of measures that can be taken to aid the body in recovery, such as:
Good hygiene – this includes washing regularly, washing your hands before you go to the toilet, and changing sanitary pads regularly;
Drinking plenty of fluids and eating a healthy and balanced diet – this will help prevent constipation;
Pelvic floor exercises – this increases blood circulation, helping the healing process.
Third Degree Tear Complications
However, occasionally a mother can suffer more serious complications as a direct result of a third degree tear. These can include:-
Sustained pain or soreness around the perineum;
Pain during sexual intercourse;
Anal incontinence or flatus;
Infection, particularly at the site of the stitches;
The formation of a fistula (hole) between the anus and vaginal cavity.
These complications should be recognised by a healthcare professional during post-natal check-ups, which are particularly important if a third degree tear has been sustained. Even so, if you are experiencing pain and discomfort that does not alleviate in the short-term, you should seek medical advice without delay.
Vaginal Births After A Third Degree Tear
A common question asked by mothers is whether or not a natural, vaginal birth can happen after a third degree tear was suffered in a previous delivery. Unfortunately, the answer is not always clear-cut as each case if different.
It is generally considered that if a third degree tear has completely healed, and there are no long-term symptoms or complications present, then a woman should be able to have another vaginal delivery as it is unlikely a tear will happen again.
However, the matter should be discussed with an obstetrician, and if you continue to experience symptoms from the third degree tear it may be best to consider a caesarean section delivery.
Can We Help You With A Medical Negligence Enquiry?
Early legal assistance can be vital so please contact us if you would like to discuss your situation. Please call us free on 0800 234 3300 (or from a mobile 01275 334030) or complete our Online Enquiry Form.

---