Medical Negligence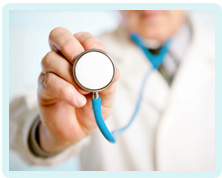 Symptoms of Bowel Perforation
A perforated bowel is a serious and potentially life-threatening problem that must be treated without delay. It is therefore vital that medical practitioners recognise the symptoms of a perforated bowel, as this will ensure a repair is carried out quickly and effectively.
What is a perforated bowel?
A perforated bowel (also known as a ruptured bowel) is when a hole develops in either the small or large intestine. This can happen for a number of reasons, with the most common including:-
Medical conditions: some medical conditions cause 'wear and tear' to the lining of the intestine. Amongst others, these include irritable bowel syndrome, Crohn's disease and ulcerative colitis. Over time, these conditions can thin the intestine lining so much that a hole develops.
Traumatic incident: traumatic accidents such as a road traffic collision can cause internal organ damage, such as a perforated bowel.
Surgical error: many types of abdominal surgery run the risk of a perforated bowel. This is because the surgeon is operating on nearby structures and, due to the proximity of the intestine, cannot help but nick or cut the bowel. A patient should be advised of this risk before undergoing surgery.
Symptoms of a bowel perforation
When the bowel is perforated, the contents of the intestine (namely faeces and waste products) will leak into the abdominal cavity. This will make the person in questions extremely unwell, leading to the following symptoms:-
Severe abdominal pain;
A swollen abdomen (known as distension);
Fever;
Nausea and vomiting;
Change in bowel movements – either constipation or diarrhoea;
Rectal bleeding.
Perforated bowel and medical negligence
If a patient has these symptoms, medical professionals should recognise the possibility of a perforated bowel. This is especially true if a patient has a recent history of trauma, has a condition that irritates the bowel or has recently undergone abdominal surgery. A CT scan will reveal the presence of escaped air in the abdomen, confirming a perforated bowel.
If medical professionals fail to diagnose a perforated bowel in a timely fashion, the waste products that are leaking into the abdominal cavity will cause a serious infection of the lining of the abdomen. This infection is called peritonitis and can be fatal if not treated quickly.
If you or your loved one has suffered because doctors failed to detect a perforated bowel, despite the fact you were displaying the typical symptoms, you may be able to claim compensation. To find out more, you need to speak to a solicitor as soon as possible.
Bookmark This Article?
Can We Help You With A Medical Negligence Enquiry?
Early legal assistance can be vital so please contact us if you would like to discuss your situation. Please call us free on 0800 234 3300 (or from a mobile 01275 334030) or complete our Online Enquiry Form.

---