Medical Negligence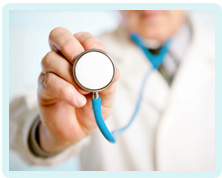 Can I Sue My GP?
Anyone who has been wrongfully harmed as a result of substandard medical care is entitled to make a claim for compensation. Therefore if you have been injured because of mistakes made by your GP, you could be in a position to pursue legal action.
To find out if you can sue your GP, simply contact us today and speak to one of our specialist clinical negligence solicitors. We will be able to advise you of the options available.
When can I sue my GP?
GPs deal with a wide variety of medical complaints every day. As such they must have wide-ranging knowledge about different types of conditions. If something falls outside their expertise, they must refer a patient onto the appropriate specialist.
For the most part GPs do a very good job and successfully treat a large number of patients every day. Sometimes, however, mistakes are made. Often this relates to:
A failure to diagnose
A failure to refer a patient to a specialist
A failure to monitor a patient's condition
A failure to accurately analyse test results
Prescription errors
If a GP makes a mistake and this causes a patient to suffer harm – which could otherwise have been avoided with better care – there may be a case of medical negligence.
What is medical negligence?
Medical negligence is also called clinical negligence in the UK, or medical malpractice in the USA.
Medical negligence is when a healthcare professional provides a patient with an unacceptable standard of care, and this causes the patient to suffer physical, emotional or financial injury.
In order to make a successful medical negligence claim, you must be able to establish that a GP breached their duty of care towards you. You must also prove that this breach of duty caused you harm in some way, either directly hurting you (e.g. a prescription error) or contributing towards your injuries (e.g. a delay in cancer diagnosis).
Duty of care
All healthcare professionals, including GPs, are bestowed with a duty of care towards their patients. This means they must provide a reasonable standard of care at all times. If the level of care given by a GP falls below what is considered acceptable (as judged by a reasonable body of GPs), there has been a breach of duty.
Causation
If a breach of duty causes a patient direct or indirect harm, there will be a case of medical negligence.
How do I know if I can sue my GP?
To find out if you can sue your GP, it is best to talk to a solicitor who specialises in medical negligence claims. Clinical negligence law is a niche area of the law and it is vital you speak to someone who deals exclusively in these claims, or you might not receive the right legal advice.
After speaking to a solicitor, you will be told whether or not you have the basis for a claim. There are many reasons why a patient might sue their GP, with common examples being:
Failure to refer a patient for cancer investigations
Failure to diagnose appendicitis, meningitis and a TIA
Failure to monitor chronic conditions closely, such as chronic kidney disease and high blood pressure
Prescribing the wrong medication/medication that a patient is allergic to
What if I'm still a registered patient?
You can still sue your GP even if you are still a registered patient. The GP practice cannot treat you any differently just because you are making a claim. If you do experience unfavourable care because you are pursuing legal action, you must speak to your solicitor.
However, you may feel uncomfortable about staying with the same GP or the same GP surgery. You may also be dissatisfied with the care you have received previously and feel like you may receive better care elsewhere. If so, you can always register with a different GP practice.
Will I get compensation?
If you win your claim, you will be awarded compensation. This will be a sum of money that is intended to provide redress for the physical, emotional and financial damages you have endured.
Your physical and emotional pain and suffering is referred to as your general damages. Your solicitor will ask a barrister to advise upon a suitable sum for your general damages. This will be based upon the injuries you have sustained and the effect this has had on your quality of life. Your legal representatives will also refer to legal guidelines and other cases that are similar to yours that have already settled.
Your financial losses are referred to as your special damages. Your solicitor will figure out the exact amount you have lost as a result of the negligence.
Will I get all my compensation?
If your claim is successful, you may have to contribute towards your solicitor's success fee. This will be deducted straight from your compensation settlement. However, it is capped at 25% of your general damages and past losses.
Your solicitor should advise you of this potential reduction before you begin the claims process. In the past solicitor's fees were paid by the losing side, but due to changes in law this has not been possible since April 2013. Therefore most solicitors choose to deduct a success fee from the compensation settlement.
If you have a no win no fee agreement, you will not have to pay anything if you lose your claim. Again, your solicitor should take you through the funding options before the claims process begins.
Is there a time limit when making medical negligence claims?
There is a three year time limit when making a medical negligence claim. You will not be able to make a claim if this three year time limit expires. You must, therefore, seek early legal advice or you may miss the chance to make a claim against your GP.
In some cases you may be able to rely upon a later date of knowledge, but even so it is best to talk to a solicitor as soon as you suspect there has been a negligence incident.
Clinical negligence solicitors Bristol
To talk to a solicitor about suing your GP for medical negligence, please do not hesitate to get in touch with us at Glynns Solicitors.
Can We Help You With A Medical Negligence Enquiry?
Early legal assistance can be vital so please contact us if you would like to discuss your situation. Please call us free on 0800 234 3300 (or from a mobile 01275 334030) or complete our Online Enquiry Form.

Bookmark This Article?
---