Subarachnoid Haemorrhages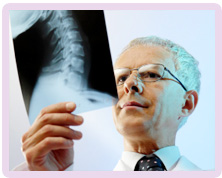 What Is A Subarachnoid Haemorrhage?
A subarachnoid haemorrhage is a serious and potentially life threatening condition where blood leaks out of blood vessels over the surface of the brain.
This condition is usually caused either by a traumatic incident or by a stroke.
This condition is known as a subarachnoid haemorrhage because the bleeding occurs in the arteries that run underneath the arachnoid, a membrane in the brain which is just below the surface of the skull. The leaking blood damages the brain tissue which if left undiagnosed will lead to disruption or loss of brain function and death.
A subarachnoid haemorrhage (SAH) will only be seen by a general practitioner once in every 7 years. 20 – 50% are missed at first presentation and they are also frequently missed in the accident and emergency department.
Each year, around 8,000 people in the United Kingdom have a SAH. It is more common in middle aged people and women are more likely to be affected than men.
The typical clinical features of an SAH are sudden onset and severe headaches which patients describe as feeling like being a hit by a brick on the back of the head. These pains peak in minutes and can last 1 – 2 weeks. Patients often vomit and in 20% of patients there have been preceding bouts of severe headache.
50% of people who experience SAH will be left severely disabled or die.
So we ask the question, why is a subarachnoid haemorrhage often missed? The reasons for this can be:-
Sudden severe headaches are not present in 25% of presenting patients.
The highly characteristic sudden onset headaches are not recognised by the clinician.
The headaches are attributed to a more common cause. A misdiagnosis of migraine is often made.
The patient presents without the classical features of a SAH at all.
It is of interest that in sudden onset headache patients presenting to a general practitioner, 10% have SAH.
So why does it matter that a subarachnoid haemorrhage is missed?
A failure to diagnose leads to re-bleeding in up to 50% of patients on the first day.
50% of patients die within 3 weeks.
One-third of those who survive remain dependent.
An early diagnosis and referral can improve the outcome for the patient.
The prospects of recovery are good for a patient who survives the initial bleeding and is transferred urgently to a specialist neurosurgical unit.
Bookmark This Article?
Can We Help You With A Medical Negligence Enquiry?
Early legal assistance can be vital so please contact us if you would like to discuss your situation. Please call us free on 0800 234 3300 (or from a mobile 01275 334030) or complete our Online Enquiry Form.

---