Medical Negligence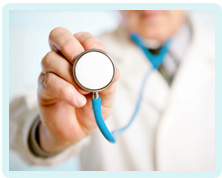 Septic Arthritis Wrongly Diagnosed
If your septic arthritis was wrongly diagnosed, resulting in a harmful delay in treatment, you could be entitled to claim compensation. Contact us for more information.
Recognising septic arthritis
Septic arthritis is when a joint becomes infected. This will be incredibly painful and will lead to symptoms typical of a bacterial infection, including a raised temperature and a raised white blood cell count.
When a patient with septic arthritis presents to a healthcare environment, he/she will have a number of features which are indicative of the need to consider a serious underlying pathology. These can be summarised as:
Severe pain require intravenous morphine and Entonox analgesia
Marked restriction of a patient's ability to bear weight (if the pain is present in the leg)
Elevation of temperature
Restriction of joint movement in all directions
When a patient presents with these problems, it would be entirely reasonable to arrange x-rays to establish whether there is a fracture. Having established that there is no apparent bony injury, the next step should be to consider further the cause of the patient's presentation.
Wrong diagnosis
Unfortunately it is not uncommon for septic arthritis to be wrongly diagnosed. However, a concluding diagnosis of something such as an abductor strain will be inconsistent with the symptoms reported by the patient; this includes the severity of pain, the marked difficulty in weight bearing and the restriction of joint movement in all directions.
In addition, the patient will have other clinical features that should prompt doctors to consider whether an infection is present. These features are as follows:
Elevation of systemic temperature
Results of blood tests which will show a marked elevation of the CRP, white blood cell count and neutrophil count
Given the features of a patient's presenting symptoms and signs, together with a normal x-ray, elevated temperature, increased CRP and neutrophil component of the white cell count, then a consideration of septic arthritis is required. A patient should then be referred to the Duty Orthopaedic Surgeon for admission and further investigations.
If medical professionals fail to realise that a patient's presentation is consistent with a diagnosis of septic arthritis, the expected standard of care will not have been achieved. If this causes a patient further injury due to a delay in treatment, there will be grounds for a medical negligence compensation claim.
Claiming compensation for septic arthritis
If you think you could be eligible to claim compensation for septic arthritis, please get in touch with us today.
Bookmark This Article?
Can We Help You With A Medical Negligence Enquiry?
Early legal assistance can be vital so please contact us if you would like to discuss your situation. Please call us free on 0800 234 3300 (or from a mobile 01275 334030) or complete our Online Enquiry Form.

---