Medical Negligence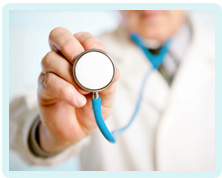 Pulmonary Embolisms And Medical Negligence
If you or a family member has suffered a pulmonary embolism which you believe medical professionals dealt with in a negligent manner, you need to speak to a legal expert as soon as possible. If you have been the victim of medical negligence, you will be entitled to claim compensation for your injuries.
For more information on medical compensation claims, please call us free on 0800 234 3300 (or from a mobile 01275 334030) or complete our Online Enquiry Form and we will be pleased to help you.
"Lucy, I just wanted to say a massive thank you to you following the outcome of my case. I already feel so much better knowing that I have the funds to try and get better and that if things do get worse in the future, as a family as can manage financially. A huge weight has been lifted! Thank you so much for all your hard work and for the caring and sensitive way all matters were dealt with."
Ms R
What is a Pulmonary Embolism?
A pulmonary embolism happens when a blood vessel in the lung becomes blocked. This occurs when a blood clot develops in deep veins of the leg, which then travels up the blood stream, eventually making its way to the lung. Here it can become stuck in one of the lung's vein, blocking the blood supply. This in turn will cause symptoms such as breathlessness, chest pain and sudden collapse. However, the severity of symptoms will vary according to the size of the clot.
Preventing a Pulmonary Embolism
Pulmonary embolisms are closely related to Deep Vein Thrombosis (DVT), and medical professionals should remain aware of the risk posed to DVT patients. Other factors that can increase the chance of a pulmonary embolism occurring include: old age, smoking, obesity, pregnancy, inactivity, medical conditions such as cancer, having had a previous clot, genetic conditions and having an operation on the lower half of the body (such as a C-Section).
All patients who are admitted to hospital should be assessed for blood-clot risk. If a patient is found to be within the at-risk category, medical professionals should provide preventative treatment such as anticoagulant medication or anti-deep vein thrombosis stockings. Pulmonary embolisms can be life-threatening, so prevention is better than cure.
Pulmonary Embolism Compensation Claims
If healthcare staff fail to identify an at-risk patient who later develops a pulmonary embolism, then the treatment provided could be deemed negligent. Furthermore, if a patient presents with the symptoms of a pulmonary embolism but it remains undetected, the standard of care will have fallen below an acceptable standard. This could prove to have drastic consequences, as undiagnosed pulmonary embolisms can be fatal.
A patient who has suffered as a result of medical negligence will be entitled to make a medical negligence claim. Often pulmonary embolism claims will arise because there has been a failure on the part of medical professionals to:-
Recognise a patient who is at risk of developing a pulmonary embolism;
Provide treatment for at-risk patients to help prevent a pulmonary embolism;
Recognise the symptoms of a patient suffering a pulmonary embolism;
Arrange tests to help make a firm diagnosis;
Diagnose a pulmonary embolism;
Treat a pulmonary embolism.
If this has happened to you or a loved one, do not delay in seeking professional legal help from a medical negligence solicitor.
Can We Help You With A Medical Negligence Enquiry?
Early legal assistance can be vital so please contact us if you would like to discuss your situation. Please call us free on 0800 234 3300 (or from a mobile 01275 334030) or complete our Online Enquiry Form.
"May I take this opportunity to thank you for all your hard work on my case, it has been very much appreciated and I would not hesitate to recommend Glynns to others. "
Mrs O, South Wales.

---