Medical Negligence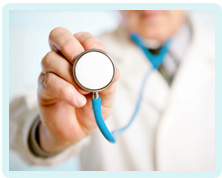 Pulmonary Embolism Negligence
If you or your loved one has suffered complications because of an undiagnosed pulmonary embolism, you may have grounds for a medical negligence compensation claim.
What is a pulmonary embolism?
A pulmonary embolism is when a blood clot becomes dislodged and travels in the bloodstream to the lungs where it becomes stuck in one of the blood vessels. It is usually a complication of deep vein thrombosis, whereby a clot develops in one of the body's deep veins, ordinarily in the legs. A pulmonary embolism is a very serious condition, as having a blocked blood vessel in the lungs will ultimately prove fatal, if treatment is not given.
Failure to prevent and treat a pulmonary embolism
If someone is admitted to hospital, steps can be taken by medical professionals to actively reduce the risk of a pulmonary embolism occurring. Upon admission, patients should be assessed to see whether or not they are at risk of developing deep vein thrombosis (and in turn a pulmonary embolism).
If a patient is considered to be at risk, anticoagulant medication should be administered and compression stockings. If medical practitioners fail to take these steps and a patient does suffer a pulmonary embolism while in hospital, the standard of care will have fallen to an unacceptable level.
On the other hand, if a patient is not in a healthcare environment, medical professionals will not necessarily be responsible for preventing a pulmonary embolism. They will, however, be responsible for making a timely diagnosis of the condition.
For example, if a patient presents with symptoms such as breathlessness and chest pain, doctors should immediately suspect a diagnosis of a pulmonary embolism. This is especially true if the individual in question has factors that would increase the risk of a blood clot. This includes old age, obesity, smoking, pregnancy, poor mobility, cancer, genetic conditions and a recent history of abdominal surgery.
Should medical professionals fail to suspect a pulmonary embolism based upon a patient's symptoms, and/or fail to carry out further tests, there will be a substandard level of care. If a patient consequently suffers complications because of a pulmonary embolism, the medical team will be held accountable.
Claiming compensation for a pulmonary embolism
If not prevented and/or treated in a timely fashion, a pulmonary embolism can result in terrible complications and can even be fatal. If this is something to have affected you or your loved one, you should speak to a medical negligence solicitor about the treatment you received, as you could be entitled to claim compensation.
Bookmark This Article?
Can We Help You With A Medical Negligence Enquiry?
Early legal assistance can be vital so please contact us if you would like to discuss your situation. Please call us free on 0800 234 3300 (or from a mobile 01275 334030) or complete our Online Enquiry Form.

---