Medical Negligence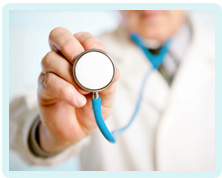 Pseudomonas and Medical Negligence
If you caught a pseudomonas infection while in hospital and you believe medical error is to blame, please get in touch with us to discuss your options.
Pseudomonas infections
A pseudomonas infection is a common type of bacterial infection. It can lead to well-known illnesses such as ear infections, skin rashes and pneumonia.
Pseudomonas infections are caused by a type of bacteria called 'Pseudomonas Aeruginosa'. Many people will carry this bacterium without any problems arising, as a healthy immune system will be able to neutralise any 'bad' bacteria, preventing an infection.
But those with a weakened immune system will have little defence against harmful bacteria, meaning an infection occurs. The Pseudomonas Aeruginosa bacteria favour moist environments and are often transmitted through water, although this is not exclusively the case.
Pseudomonas in hospital
Hospital patients are at increased risk of developing a pseudomonas infection. This is for two reasons: firstly, hospital patients often have a compromised immune system, and secondly, the bacteria can spread through medical equipment, cleaning solutions and the water system.
An outbreak of a pseudomonas infection can have devastating consequences, as has recently been witnessed at Southmead Hospital in Bristol, where a one-week-old baby died from the bug in October 2012.
Indeed, if the infection gets onto the lungs, it can cause pneumonia. If the bacteria spread to the bloodstream, it can lead to septic shock and organ failure. Both conditions can be fatal, especially to those with a weakened immune system.
Claiming for pseudomonas in hospital
The occurrence of a pseudomonas infection in hospital will not necessarily amount to medical negligence. However, there may be grounds for a claim if:-
The infection was caused by unsanitary conditions
The infection was not diagnosed and treated
An outbreak of the infection was not properly controlled
If any of the above has affected you or your loved one, you need to speak to a solicitor about the options available to you. If harm has been caused by substandard medical care, there will be grounds for a medical negligence compensation claim.
Medical negligence compensation
To find out more about claiming compensation for medical negligence, please get in touch with us today. We will put you through to a specialist solicitor who will listen to the details of your case before suggesting whether or not you have been the victim of medical error. If so, we will help you pursue a claim for the damages incurred.
Bookmark This Article?
Can We Help You With A Medical Negligence Enquiry?
Early legal assistance can be vital so please contact us if you would like to discuss your situation. Please call us free on 0800 234 3300 or complete our Online Enquiry Form.

---