Medical Negligence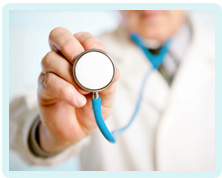 Preventing Established Renal Failure
Kidney disease is ordinarily detected in the early stages with blood and urine tests. This ensures the condition can be effectively managed.
However, if doctors miss the signs and symptoms of kidney disease and a patient develops established renal failure, there may be a case of medical negligence. For more information, please get in touch with us today.
Detecting chronic kidney disease
When the kidneys begin to permanently lose function, a person is said to have chronic kidney disease (CKD).
CKD is often diagnosed during routine screening tests offered to people at risk of developing kidney disease.
Alternatively, the illness may be detected after a patient presents to their GP complaining of symptoms characteristic of decreased kidney function. These symptoms often include:
Weight loss and poor appetite
Water retention causing swollen ankles, feet or hands
Shortness of breath
Increased need to urinate, especially during the night
Itchy skin
Muscle cramps
Nausea
Erectile dysfunction in male patients
A patient who presents to their GP with these symptoms should be tested for chronic kidney disease. Of course, it is possible that these symptoms are being caused by another, more minor condition. Nevertheless, it is important to check that kidney disease is not present as it is best caught in the early stages.
When a patient is suspected of having CKD, he/she should have their blood pressure checked, as this is a sign of reduced kidney function. A urine test should also be carried out as blood and protein in the urine is also a sign of reduced kidney function.
If a patient's symptoms and the clinical results point towards CKD, a patient should be referred to a specialist for further tests.
Failure to spot chronic kidney disease
Unfortunately there are occasions when a patient will visit their GP repeatedly, yet their CKD remains undetected for a significant period of time. It is very likely that this will amount to a substandard level of care, as a patient displaying symptoms consistent with reduced kidney function should undergo basic tests such as a urine test. Protein and blood in the urine is an indication for a referral to a nephrologist.
If there is a long delay in seeking the opinion of a nephrologist in the face of obviously declining renal function, the GP will have provided a substandard level of care. If this has a negative impact upon a patient in that they progress to established renal failure, there will be grounds for a medical negligence claim.
Claiming compensation
To find out if you can claim compensation for negligent GP care, please get in touch with us today to discuss your options.
Bookmark This Article?
Can We Help You With A Medical Negligence Enquiry?
Early legal assistance can be vital so please contact us if you would like to discuss your situation. Please call us free on 0800 234 3300 (or from a mobile 01275 334030) or complete our Online Enquiry Form.

---