Medical Negligence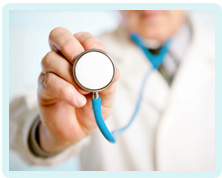 Pressure Sores in a Nursing Home
If you or your loved one has developed a pressure sore in a nursing home, you could be entitled to pursue a claim for compensation.
Pressure sores
Pressure sores happen when an area of the body's tissue is placed under sustained pressure, restricting the flow of blood. Blood provides the tissue with oxygen and carries away waste products. The restricted blood flow will therefore result in oxygen deficient tissue and a build-up of waste products. The combination of these factors will cause the tissue to break down, leaving an open sore – known as a pressure sore.
Pressure sores in a healthcare environment
Pressure sores happen most commonly in a healthcare environment. This is because many hospital patients or nursing home residents are unable to move around of their own accord. Often this is due to old age, an operation, illness or broken bones. Consequently they remain lying or sitting in one position for long periods at a time, putting prolonged pressure upon certain areas of the body.
For example, if a patient is left sitting in a chair all day, the blood flow to the buttocks, shoulders and sacrum will be restricted. The tissue in these pressure points will gradually begin to break down. If pressure is not relieved, or the skin is already thin, a pressure sore will develop.
Preventing pressure sores
Because of this risk, healthcare professionals must take steps to prevent pressures sores occurring. This can be done by helping patients to change position regularly. Equipment such as pressure-relieving mattresses should also be put to use. A patient's pressures areas should be assessed regularly and, if changes to the tissue can be seen, further action taken.
These preventative measures should be implemented across all healthcare settings, including hospitals, nursing homes and care homes. If fulfilled properly, it should be possible to prevent a patient from developing a pressure sore. Even if the tissue does begin to break down, immediate action should ensure the sore does not become a serious open wound.
Expert legal advice for pressures sores
Unfortunately, however, healthcare professionals do not always adhere to their duty to prevent pressure sores. For example, there might be a failure to:-
Assess a patient for pressure sore risk;
Use pressure-relieving equipment;
Turn a patient on a regular basis;
Monitor pressures areas;
Take action when tissue damage is first noticed.
If healthcare staff fail to meet their duty of care and a patient develops a pressure sore, there will be a case of negligence. This applies to both hospital staff and nursing home staff.
To find out more about claiming compensation for pressure sores acquired in a care home, please get in touch with us today.
Bookmark This Article?
Can We Help You With A Medical Negligence Enquiry?
Early legal assistance can be vital so please contact us if you would like to discuss your situation. Please call us free on 0800 234 3300 (or from a mobile 01275 334030) or complete our Online Enquiry Form.

---