Medical Negligence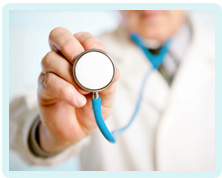 Pressure Sore Solicitor Bristol
If you or your family member developed a pressure sore in a Bristol hospital because of poor nursing care, please get in touch with us today. Pressure sores should not happen in a healthcare environment, meaning you or your loved one could be considered the victim of medical negligence.
Pressure sores, pressure ulcers, bed sores
Pressure sores happen when an area of body tissue is subject to unrelieved pressure. For example, if someone sits in a chair all day, their body weight will compress certain pressure points including the buttocks, back and shoulder blades.
This compression disrupts the flow of blood to the tissue. If it continues for too long, the tissue will become deficient in oxygen, which is carried to the tissue in the blood. There will also be a build-up of waste products, which is normally removed from the tissue in the blood.
All this will mean that the tissue begins to break down. The longer the compression continues, the more the tissue will break down and the worse the pressure sore will be.
Pressure sore Bristol hospital
Because most hospital patients have poor mobility and, quite often, poor blood circulation, they are very susceptible to getting pressure sores. This is an accepted risk and it is part of a nurse's duty to prevent the development of pressure sores, so far as it reasonably practicable.
To prevent pressure sores, nursing staff must risk assess a patient to check whether they might be particularly vulnerable to getting pressure sores.
If so, measures should be implemented straight away to help reduce this risk. This should include placing a patient on a pressure relieving mattress and turning a patient regularly. Pressure points should also be checked frequently and action taken if any tissue breakdown can be seen.
Suing Bristol hospital
With these measures, it should be possible to prevent a pressure sore. It is for this reason that a pressure sore is considered to be a 'never event'. A never event is a patient safety incident that can be avoided with the correct safety procedures. Therefore as long as an acceptable standard of nursing care is provided, a patient should be able to avoid a pressure sore.
Sadly an acceptable standard of nursing care is not always provided and a patient gets a pressure sore, which could have been avoided with better medical treatment. If this has happened to you or your loved one in a Bristol hospital, please contact us to talk about what action to take next. You could be entitled to claim compensation.
Can We Help You With A Medical Negligence Enquiry?
Early legal assistance can be vital so please contact us if you would like to discuss your situation. Please call us free on 0800 234 3300 (or from a mobile 01275 334030) or complete our Online Enquiry Form.

Bookmark This Article?
---