Medical Negligence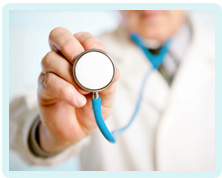 Ogilvie's Syndrome
If medical practitioners fail to diagnose Ogilvie's Syndrome in a timely fashion, resulting in the perforation of the bowel, there may be grounds for a medical negligence claim. For more information, do not hesitate to contact a medical negligence solicitor today.
What is Ogilvie's Syndrome?
Ogilvie's Syndrome is a pseudo obstruction of the bowel. This means that the bowel loses its ability to push food through the colon (or in some cases the small intestine). When the bowel becomes inactive, it is known medically as 'paralytic ileus'. This can arise due to a number of reasons, including:
Prolonged bed rest
Pregnancy
Certain medication, such as morphine and antidepressants
Ventilated patients
Conditions affecting the nerves, such as Parkinson's disease
Conditions affecting the muscles, such as muscular dystrophy
Treating Ogilvie's Syndrome
Ogilvie's Syndrome is a medical emergency, meaning a patient with the condition must be treated immediately if serious complications are to be avoided. This is because the inactivity of the bowel will cause the colon to become large and distended.
Eventually the bowel will become so swollen that it actually ruptures, causing faeces and waste products to leak into the abdominal cavity. This will quickly lead to peritonitis, which is when the lining of the abdomen becomes infected.
Ogilvie's Syndrome must therefore be treated in the early stages, when a conservative course of treatment will still be effective. This might include nasogastric decompression, intravenous fluids and decompression with a colonoscopy.
The provision of early treatment will of course depend upon a timely diagnosis. This can be readily achieved as long as medical professionals recognise a patient's symptoms, which will include abdominal pain and distension, nausea and vomiting, and constipation. These symptoms should prompt an abdominal x-ray, and this will show bowel obstruction.
Delayed diagnosis and treatment of Ogilvie's Syndrome
Sadly there are occasions when medical practitioners fail to diagnose Ogilvie's Syndrome, even though a patient is showing the characteristic symptoms. This often happens because doctors make a misdiagnosis, mistaking the condition for a more minor problem such as irritable bowel syndrome. Alternatively, medical practitioners may wrongly interpret the x-rays results, believing there is no bowel obstruction, where in fact there clearly is.
If there is a delay in diagnosis, the bowel will go on to rupture, after which a patient will quickly become critically unwell. This may lead to life-threatening complications such as peritonitis, organ damage and septic shock. Even if a patient does survive, he or she may be left with permanent injuries, including reduced fertility, a stoma and significant scarring.
Claiming for Ogilvie's Syndrome
If there is a delay in the diagnosis and treatment of Ogilvie's Syndrome, resulting in complications that could otherwise have been avoided, there may be a case of medical negligence. Contact us today to find out more.
Bookmark This Article?
Can We Help You With A Medical Negligence Enquiry?
Early legal assistance can be vital so please contact us if you would like to discuss your situation. Please call us free on 0800 234 3300 or complete our Online Enquiry Form.

---