Medical Negligence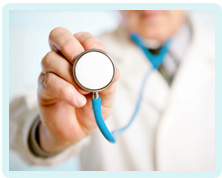 Non-union of a Bone
If your fracture has healed poorly, is medical negligence to blame? In this article we explore the non-union of a bone in more detail, suggesting whether substandard medical care may be at fault.
How does a fracture heal?
When a bone breaks, a healing response is immediately initiated. Blood or marrow leaks from the fractured bone ends and this blood forms a clot. That clot slowly matures to form a brand new bone, which bridges the feature ends. The bone slowly matures and in the end there is no evidence of a fracture at all.
During the phase when the bone is forming, he progress can be monitored with x-rays, because the forming bone becomes radio-opaque (meaning it can be seen on x-rays). The formation of the new bone is known as a 'callus'. The formation and progression of a callus can be seen on sequential x-rays and confirms to the surgeon that bone healing is occurring.
For very close assessment of fracture healing, a patient should undergo CT scanning. A plain x-ray is really a silhouette of the whole bone, whereas a CT scan provides detailed images in which the bone is digitally cut into slices. Each slice can then be assessed as to whether any bony healing is occurring.
Poor fracture healing
This is the ordinary process by which a bone heals, culminating in the union of a fracture. However, there are two other recognised consequences of a fracture which deviate from the 'normal' healing process.
1. Delayed healing
The first is that the healing process is very slow. It runs slower than the normal healing process but, nevertheless, on monitoring (both clinically and on sequential x-rays) one can see that healing is occurring, culminating finally in full healing. This process is known as delayed healing.
2. Non-union
The other consequence of a fracture is that the healing process does not run along the normal path as the biological process of forming a new bone 'switches off'. Instead a rubbery, fibrous scar forms which is painful and leads to weakness of the bone, pain from the fibrous scar and is usually unacceptable to the patient. This process is known as non-union.
Why might a fracture heal badly?
There are several important factors which pre-dispose a patient to non-union or delayed union. This includes a high energy injury, meaning one in which a great deal of force and energy has been dissipated through the fracture site. A typical example of this is a motor vehicle accident happening at around 30mph. This is in contrast to a fall on a rugby field, for example, which is a low energy injury.
During a high energy injury, there is something of an explosion at the fracture site and the soft tissues – including the blood vessels around the ends of the fracture – are destroyed, making biological healing much harder. Another cause of non-union is simply the patient's tendency not to heal fractures. It is not known why this affects some patients rather than others, although it is likely that genetics are involved.
Complications after a fracture
In a similar vein, it has been found that some patients develop complications after injury whereas others do not. One of the recognised complications is complex regional pain syndrome. In particular this is a well-known complication of wrist injuries. An excessive scarring reaction occurs, giving rise to marked pain and stiffness. It is an ill understood condition but again, it is likely that genetic factors are at play.
Another recognised example of excessive inflammation after an injury is frozen shoulder. This is a disorder where the capsule of the shoulder, normally a relatively inert sac, becomes very inflamed and shrinks, acting as a block to rehabilitation.
Does a poor fracture recovery amount to medical negligence?
If a patient appears to be experiencing a poor fracture recovery, doctors should monitor the healing process with imaging tests. If there is some healing, it is entirely reasonable to wait to see if more healing occurs.
Some healing implies that the biological process is ongoing and has not switched off. The diagnosis is therefore delayed union; the treatment for delayed union is to wait because union will usually still happen.
Furthermore, if a patient does develop complications, it is very likely that they have some pre-disposing tendency to suffer from problems after a limb injury – such as a tendency to excessive inflammation.
On the other hand, if doctors fail to manage a fracture as would be expected by a reasonable body of medical practitioners, there may be a case of medical negligence.
One of the most common types of fracture claim is a failure to diagnose. While fractures are a frequent injury which can be readily identified with an x-ray, there are times when doctors simply fail to detect the injury – either because they fail to perform an x-ray, or because they fail to detect the fracture on the image.
There may also be grounds for a claim if medical practitioners fail to intervene where there is a non-union of a fracture.
Claiming compensation
Both a missed fracture and a non-union of a fracture will be painful. It may lead to long-term dysfunction, having a knock-on effect upon a host of activities that are normally taken for granted, such as working, driving and even just getting dressed.
If you have been left with orthopaedic complications as a result of medical negligence, you need to speak to a solicitor about your options. This is because anyone who has been wrongfully harmed as result of medical error will be entitled to compensation for the damages incurred.
A solicitor who specialises in medical negligence (clinical negligence) will be able to suggest whether you are eligible to obtain financial redress. If so, your solicitor will pursue the claims process on your behalf, fighting to get the justice you deserve.
Get in touch
To talk to a solicitor today, please contact us at Glynns Solicitors. We are experts in the field of medical negligence and will be able to help you further.
Bookmark This Article?
Can We Help You With A Medical Negligence Enquiry?
Early legal assistance can be vital so please contact us if you would like to discuss your situation. Please call us free on 0800 234 3300 (or from a mobile 01275 334030) or complete our Online Enquiry Form.

---