NHS Broken Neck Claims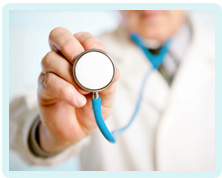 NHS Miss Broken Neck NHS Claim
If the NHS failed to diagnose your broken neck, you need to talk to a solicitor about suing the hospital at fault. If there is a case of medical negligence, you will be eligible to make a claim for compensation. Contact us for more information.
Broken Neck
A broken neck is when one or more of the seven vertebrae in your neck are fractured. This can occur in a variety of ways, most commonly in traumatic accidents such as road traffic accidents, falls, slips, trips and sporting injuries.
A broken neck is a very serious injury and extreme care must be taken when managing the problem. It may be that only the bone is damaged, but there is also a chance that the spinal cord is harmed. A spinal cord injury is a potentially life-changing injury and can result in disability and death.
Whether the spinal cord is damaged or not, it is absolutely essential that the injury is diagnosed and treated quickly. Indeed, even if the spinal cord has not been harmed in the initial accident, it may become damaged if the injury is left untreated.
NHS Miss Broken Neck
Despite a broken neck being such a serious condition, there are times when doctors miss the injury. This might happen because imaging tests such as an x-ray are not performed, or because the imaging tests are not interpreted correctly.
Failing to diagnose a broken neck is a serious breach of duty on the part of medical professionals. It can also lead to devastating injuries for the patient, including prolonged pain and suffering, long-term loss of function and the loss of earnings.
NHS Claim
If you or your loved one has suffered a broken neck and doctors failed to make a diagnosis, you need to speak to a solicitor about suing the NHS. Any reasonably competent medical practitioner should be able to diagnose a broken bone, particularly one as serious as a broken neck. A failure to do so will be considered unacceptable.
If these medical errors have caused unnecessary pain and suffering, it is possible that there will be grounds for a medical negligence compensation claim.
Expert legal advice
To claim against the NHS for a missed broken neck, please do not hesitate to get in touch with us at Glynns Solicitors. We specialise in pursuing compensation claims against the NHS and will work hard to get you the justice you deserve.
Can We Help You With A Medical Negligence Enquiry?
Early legal assistance can be vital so please contact us if you would like to discuss your situation. Please call us free on 0800 234 3300 (or from a mobile 01275 334030) or complete our Online Enquiry Form.

Bookmark This Article?
---