Medical Negligence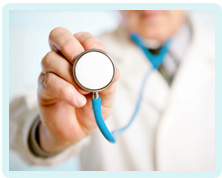 Compensation Claims against the NHS: Appendicitis Failure to Diagnose
If you have presented to an NHS hospital with appendicitis but doctors failed to make an accurate diagnosis, you could be entitled to make a compensation claim.
Why is it so important to diagnose appendicitis?
Appendicitis is when the appendix becomes infected and inflamed. When this happens the appendix must be removed or it will become so swollen that it bursts – known as a ruptured or perforated appendix.
When the appendix bursts pus will spread across the abdominal cavity, causing the infection to spread to the lining of the abdomen. This is a serious condition called peritonitis that can be fatal if not treated in time.
It is perfectly safe to remove the appendix as it no longer has a function and humans do not need it.
Diagnosing appendicitis
Appendicitis is associated with the following symptoms:-
Severe pain in the right hand side of the abdomen;
Fever;
Vomiting;
Diarrhoea.
However, these symptoms are very similar to other more minor condition such as gastroenteritis. Because of this, doctors should be sure to carry out a series of tests to ensure the correct diagnosis is obtained. This should include a urine test, a blood test and, if necessary, a CT scan.
With these measures doctors should be able to make an accurate diagnosis of appendicitis. If there is any doubt, a patient should be admitted to the ward for observation and a close eye kept on their condition. If there is a deterioration in symptoms, thereby confirming the presence of appendicitis, no time should be wasted in carrying out emergency surgery.
Failure to diagnose appendicitis
Unfortunately medical professionals do not always make a timely diagnosis of appendicitis. This is often because they do not accurately assess a patient's symptoms and test results, leading to a misdiagnosis. On some occasions a patient will be discharged from hospital without even having any tests performed. This will be very dangerous as the delay in treatment could lead to a ruptured appendix.
Compensation claims against the NHS
If you have suffered harm because medical professionals did not diagnose your appendicitis in a timely fashion, you will be entitled to make a claim against the NHS. This would enable you to obtain compensation for the damage you have been done. This covers your pain and suffering, and recovers the money you have lost. This might include a loss of earnings and the cost of aftercare. To find out more about compensation claims against the NHS for appendicitis, you need to talk to a solicitor.
Bookmark This Article?
Can We Help You With A Medical Negligence Enquiry?
Early legal assistance can be vital so please contact us if you would like to discuss your situation. Please call us free on 0800 234 3300 (or from a mobile 01275 334030) or complete our Online Enquiry Form.

---