Medical Negligence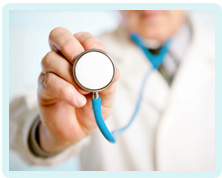 Necrotising Fasciitis NHS
If your necrotising fasciitis was not diagnosed and treated in a timely fashion, causing you to suffer unnecessary injuries, you could be entitled to make a claim against the NHS Trust responsible.
Claiming against the NHS for necrotising fasciitis
Necrotising fasciitis is a bacterial infection that must be treated as soon as possible. This is because as the infection takes hold, the toxins released by the bacteria will actually kill the tissue, causing it to die. Once this happens the tissue cannot be cured and an open wound will develop.
Because the bacteria spread very quickly, the site of infection will rapidly grow. This means more tissue will die and the open wound will become larger. This will be very damaging as having a large area of necrotic tissue will cause the body to go into shock. The infection may also spread to the blood (known as sepsis) and lead to organ failure. Even without these potentially fatal consequences, a patient will be left with a significant deformity that may need to be treated with plastic surgery.
These terrible complication can, however, be avoided with early treatment. That is why it is so important for medical professionals to recognise the condition in the early stages, as this will ensure treatment can be provided to stem the infection and prevent unnecessary pain and suffering.
Necrotising fasciitis NHS claims
A necrotising fasciitis claim can be taken against the NHS if medical professionals:-
Failed to diagnose the condition in a timely fashion (as would be considered reasonable by a competent doctor);
Failed to provide the necessary treatment (namely antibiotics and surgical debridement);
Failed to provide this treatment with the urgency required.
All these things will delay the treatment so desperately needed by the patient, allowing the infection to continue to spread. This will lead to a greater area of necrotic tissue, additional complications and a prolonged recovery. Alternatively, this delay may prove to be fatal.
Get expert legal advice
If this is something to have affected you or your loved one, do not hesitate to get in touch with a solicitor who specialises in medical negligence claims. This will allow you to clarify your position, helping you understand whether the NHS has provided you with a substandard level of medical care.
If so, you will be entitled to bring a claim against the NHS Trust responsible for your injuries, allowing you to claim compensation for the pain, suffering and financial loss you have wrongfully endured.
Bookmark This Article?
Can We Help You With A Medical Negligence Enquiry?
Early legal assistance can be vital so please contact us if you would like to discuss your situation. Please call us free on 0800 234 3300 (or from a mobile 01275 334030) or complete our Online Enquiry Form.

---