Medical Negligence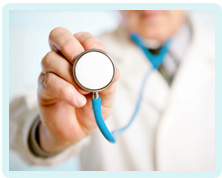 Necrotising Fasciitis Definition
Necrotising fasciitis is a bacterial infection that causes the soft tissue and underlying fascia to become necrotic, meaning it dies. It is a rare condition, but nevertheless it is one that a number of people develop in the UK every year.
What is necrotising fasciitis?
Necrotising fasciitis, which is also spelt necrotizing fasciitis, is a rare but very serious bacterial infection. It is usually caused by the Group A Streptococcus bacteria which enter the body through a break in the skin. This might be through a large cut, or a tiny pinprick. Sometimes the affected individual will not even know they have sustained a degree of trauma.
When the bacteria get into the body, they multiply at a rapid rate. This is very dangerous, as they release a toxin as they reproduce. This chemical is extremely harmful and will attack the body's soft tissue, causing it to become necrotic. Once it dies the skin cannot be healed and it must be removed.
Should doctors be able to recognise necrotising fasciitis?
If the bacteria are allowed to continue to reproduce, the area of infection will quickly spread, meaning the area of necrotic tissue will also grow. However, medical professionals should be able to detect and treat necrotising fasciitis before the infection becomes extensive.
Indeed, doctors should be aware of the condition, despite the fact it is very rare. At the very least, a doctor should be able to recognise the signs of infection and carry out further testing to obtain an accurate diagnosis. A single blood test will show that a patient is suffering an infection, while the problem can usually be identified visually, as the skin will be red and hot to the touch.
These symptoms should prompt doctors to perform further tests, with the most important being a swab of the infection to be sent to the laboratory. A microbiologist will be able to analyse the swab and inform doctors that a patient is in fact suffering from necrotising fasciitis.
Claiming for necrotising fasciitis
But unfortunately doctors do not always recognise necrotising fasciitis, and instead make a wrong diagnosis, or simply discharge a patient without treatment. This will be very harmful, as the infection will take hold, resulting in a large area of necrotic tissue.
If a delay in diagnosis and treatment has caused you or your loved one to suffer unnecessary pain and suffering, you could be entitled to claim compensation. This is because any reasonably competent doctor should be able to diagnose the condition before serious complications ensue. A failure to do so will amount to a substandard level of care. You will therefore be able to pursue a claim for medical negligence.
Bookmark This Article?
Can We Help You With A Medical Negligence Enquiry?
Early legal assistance can be vital so please contact us if you would like to discuss your situation. Please call us free on 0800 234 3300 (or from a mobile 01275 334030) or complete our Online Enquiry Form.

---