Medical Negligence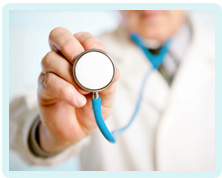 Missed Transient Ischaemic Attack
A transient ischaemic attack (TIA) is a mini-stroke that often precedes a full stroke. It is therefore essential that anyone who has a TIA is investigated and treated, as this will help prevent further complications occurring.
Missed TIAs
A transient ischaemic attack is when the blood supply to part of the brain is disrupted, just as it is with a full stroke. However, with a TIA this disruption is only temporary and so the consequences are not as severe.
Even so, someone who has a TIA is very likely to suffer further mini-strokes or a full stroke in the near future. That is why a transient ischaemic attack must be diagnosed and treated properly, or serious complications could ensue.
Anyone presenting with the symptoms of a mini-stroke must be rushed to hospital and investigated further. These symptoms are very similar to that of a full stroke, including a droopy face, slurred speech and limited mobility in the arms.
If a TIA is suspected, a patient should be referred within seven days to a stroke specialist. During this appointment further tests will be performed and, if a patient is thought to be at risk of suffering a stroke, treatment provided.
Compensation for a missed transient ischaemic attack
If these steps are taken, it is possible to prevent a full stroke from occurring. But unfortunately there are occasions when medical professionals fail to diagnose a transient ischaemic attack, meaning a patient does not receive the treatment required.
Often this will happen because medical professionals believe a patient to be suffering from a more minor condition and so fail to refer him/her to a specialist. If a TIA is missed, a patient may go on to suffer a full stroke that could have been avoided with the proper medical care.
If this has happened to you or your loved one, we understand just how upset you will be. Knowing that the terrible complications of a full stroke could have been avoided with simple medical treatment is very difficult to come to terms with.
Nevertheless, there is action you can take, as it may be possible to make a claim against the GP or hospital who failed to diagnose the TIA. This will allow you to obtain compensation for the pain, suffering and financial damage that you have incurred.
Expert legal advice
To find out more about claiming compensation for a missed transient ischaemic attack, please do not hesitate to get in touch with us today.
Bookmark This Article?
Can We Help You With A Medical Negligence Enquiry?
Early legal assistance can be vital so please contact us if you would like to discuss your situation. Please call us free on 0800 234 3300 (or from a mobile 01275 334030) or complete our Online Enquiry Form.

---