Medical Negligence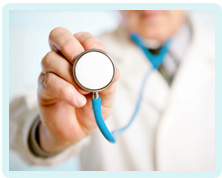 Missed Bowel Cancer Death
If your loved one has passed away because medical practitioners failed to diagnose their bowel cancer in a timely fashion, you could be entitled to pursue a claim on their behalf.
Diagnosing bowel cancer
Bowel cancer is associated with very distinctive symptoms that should prompt further investigations. These symptoms include:
Pain in the abdomen
A change in bowel habits – such as increased frequency
Unexplained weight loss
Bloating in the abdomen
Blood in the stools
Tiredness
Any patient who presents with these symptoms must be investigated for bowel cancer. Suspicions should be heightened if a patient is over 50 years old or has a family history of bowel cancer. Nevertheless, bowel cancer can affect anyone of any age, so it is prudent to treat any patient with the aforementioned symptoms with caution.
If a patient has sought help from their GP, he/she may first undergo a digital rectal examination. This is because the GP may want to check whether or not a mass can be felt in the rectum. Even if a lump cannot be felt, a patient should still be urgently referred to a specialist for a colonoscopy. A colonoscopy will verify whether or not there are any abnormalities present, and if so, a biopsy of the cells can be taken.
As long as this course of action is taken, the level of care provided by medical practitioners will be considered reasonable.
Failure to diagnose bowel cancer
Unfortunately patients with bowel cancer do not always enjoy a reasonable standard of care. This may happen because:
Their GP does not refer them to a specialist for a colonoscopy
The colonoscopy results are wrongly interpreted and a tumour is missed
Their GP does not re-refer them for a colonoscopy when symptoms persist. In such cases the tumour may or may not have been visible on the first colonoscopy.
A delayed diagnosis of bowel cancer will be very troubling as the condition must be treated in the early stages. If left untreated for too long, the tumour can become so large that any treatment is ultimately ineffective. The patient will therefore have terminal cancer.
If a patient's life expectancy is reduced due to a delayed diagnosis, there will be grounds for a medical negligence compensation claim.
Claiming for bowel cancer
If your loved one suffered terminal bowel cancer because of a delay in diagnosis and treatment, you will be able to pursue a claim against the GP or NHS Trust responsible. Although this will not undo the pain experienced by you and your family, it will provide some form of redress. To find out more, please get in touch with us today.
Bookmark This Article?
Can We Help You With A Medical Negligence Enquiry?
Early legal assistance can be vital so please contact us if you would like to discuss your situation. Please call us free on 0800 234 3300 or complete our Online Enquiry Form.

---