Medical Negligence Solicitors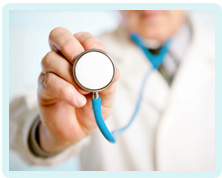 7 Questions You Must Ask Before Selecting Your Medical Negligence Solicitor
If you believe that you have suffered injury as a result of the negligence of a medical professional, what questions do you need to ask before selecting the right Medical Negligence Solicitors to help you investigate your claim? This guide explores the key issues that you need to consider.
1. How Much Will It Cost You?
This is, not surprisingly, the first issue to consider. How much will it cost you to investigate your claim, and if you proceed with your claim what will the costs be?
Most medical negligence solicitors now should be able to offer you a variety of methods of funding your claim. Legal aid is still available in some cases, but perhaps even more useful than legal aid is the fact that many medical negligence solicitors will now act for you under a "No Win, No Fee" agreement. This means that they will not charge you for their time as the case progresses. In most cases they will cover the costs of obtaining medical evidence and the other expenses needed to support your claim. At the end of your claim, if it is successful, they will be entitled to recover their legal costs from the other party's insurers.
Finally, the third method of funding that might be offered to you is that you pay the solicitor their usual hourly rate as the case progresses. This is usually the least favourable method for victims of medical negligence as it can lead to you investing a substantial amount of money in your solicitor before knowing whether you are going to win your claim for compensation.
2. What Experience Does Your Medical Negligence Solicitor Have?
If you are pursuing a claim for medical negligence you want to ensure that the solicitor that is acting for you has good experience in the field of medical negligence. It is a complex area of law, far more so than other injury claims, so you need to ensure that they have handled a good number of medical negligence claims.
Questions to ask your potential solicitor might include:
Do you specialise in medical negligence claims?
How long have you been dealing with medical negligence claims?
How many medical negligence claims have you dealt with?
How many claims have you won?
Have you taken many claims to a final court hearing?
If they provide you with answers to all of these questions that give you confidence in their experience, the next question is whether they have had experience of your type of medical negligence claim.
3. What Experience Does Your Solicitor Have Of Your Type Of Claim?
Does the solicitor have experience of your type of medical negligence claim, and what success have they had for other clients? If they have won other claims that are very similar to your own this should provide you with more confidence in their expertise.
4. How Long Will Your Claim Take?
You need to ask this question so that you can prepare yourself for the worst case scenario. Medical negligence claims involve complex legal and medical issues so they can often take some years to reach a conclusion. Understanding this at the beginning of the claim will take some pressure away from you and you can allow your solicitor to concentrate on preparing your claim as well as possible.
5. Will Treatment Be Available For You?
If you are still in pain, it is worth asking your medical negligence solicitor whether they will be able to arrange private medical treatment for you in the future. They may advise you that they will need medical evidence that supports your claim, but if they obtain that they should be able to include a claim for private medical treatment as part of your claim.
6. How Will You Be Able To Contact Them?
It is important that you feel comfortable with your solicitor and that you are not afraid to pick up the telephone or email them if you have any questions or concerns. Ask your solicitor whether they are happy to discuss issues with you and how they would prefer you to contact them.
7. Prospects Of Success
We have already stressed that very many medical negligence claims are difficult to prove, but ask your medical negligence solicitors what they estimate your prospects of success to be. This may change throughout the case as new evidence materialises, but understanding your realistic prospects of a successful claim is important so that you can manage your expectations.
Bookmark This Article?
Can We Help You?
Early legal assistance can be vital so please contact us if you would like to discuss your surgery. Please call us free on 0800 234 3300 (or from a mobile 01275 334030) or complete our Online Enquiry Form.

---