Medical Negligence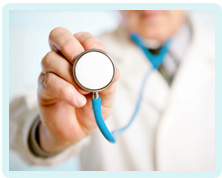 Leg Fracture Missed
A fracture needs to be re-set and immobilised in order for the bone to heal correctly. If the fracture is not diagnosed, the opportunity to treat the break will be missed, meaning it will not heal successfully.
If this has happened to you, you need to speak to a solicitor about the options available to you. You could be the victim of medical negligence. This would entitle you to claim compensation for the damages you have incurred.
Treatment for leg fracture
The leg consists of large bones including:
The femur in the thigh (the longest bone in the body)
The tibia and fibula in the lower leg
The patella (the kneecap)
If any of these bones fracture, it is necessary to re-set the break so that the bone is placed back into its correct position. This can be achieved through manipulation. Alternatively screws and other fixators may be required. Once this has been done, the limb should be immobilised in order to aid the healing process.
As long as these steps are achieved, it should be possible to avoid the malunion of the bone. This is when the bone knits back together but in the wrong position. A bone that has reunited out of place can cause significant dysfunction and pain, and may require surgery to resolve the problem.
Leg fracture not diagnosed
Sometimes a fracture will be deliberately left untreated. This commonly occurs with a broken collar bone. However, it is unusual for a leg fracture to be purposefully untreated; ordinarily it will be reset and immobilised to ensure a good prognosis.
Therefore if a leg fracture is not treated, it may be because medical practitioners have failed to diagnose the break. This can happen because x-rays were not ordered, or because the x-rays were inadequate/not interpreted correctly.
Consequences of a missed leg fracture
A leg fracture that is not diagnosed and treated can cause severe complications. Treatment may be given at a later date, although this will be more complex and invasive than if the break had been treated earlier.
The outcome may also not be as optimistic with delayed treatment. Some people have been rendered almost immobile as a result of a missed leg fracture, needing walking aids and housing adaptations just to get around their own home.
Has this happened to you?
If you have suffered unnecessary injuries because of a missed leg fracture, please get in touch with us at Glynns Solicitors. We will advise whether you are entitled to claim compensation.
Free, no obligation enquiry
We offer everyone a free, no obligation enquiry. This means you can talk to a solicitor completely free of charge. After this consultation you will be given expert legal advice, during which you will be told whether you have grounds to make a claim.
Please call us free on 0800 234 3300 (or from a mobile 01275 334030) or complete our Online Enquiry Form.

---