Medical Negligence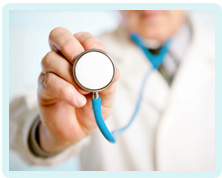 Infection After Stress Incontinence Operation
If you developed a serious infection after surgical treatment for stress incontinence, you could be the victim of medical negligence. This is because antibiotics should be administered during the operation, protecting the patient against possible infection.
A failure to provide preventative antibiotics will be deemed unacceptable. If this causes a patient to suffer harm, there will be grounds for a medical negligence claim. Contact us today to find out more.
Treating stress incontinence
Stress incontinence is due to weakness of the mechanisms which hold urine in, for which the treatment is largely surgical.
In modern gynaecological practice, the standard first line treatment for stress incontinence is with either with Tension Free Vaginal Tape (TVT) or Transobturator Tape (TOT). Each procedure involves a polyproprolene mesh sling being inserted underneath the urethra, either suprapubically (the TVT operation) or via the groin (the TOT operation).
Both operations have a comparable success rate and the choice of whether to perform a TVT or a TOT largely comes down to the surgeon's preference.
Prophylactic antibiotics
Given that both operations involve the vaginal area and the insertion of a foreign body (the mesh), it is mandatory to give intravenous antibiotics to reduce the risk of a subsequent infection.
Antibiotics that are administered to prevent potential infections developing are called 'prophylactic antibiotics', with prophylactic meaning preventative.
With regards to a TOT/TVT procedure, the failure to administer prophylaxis at the time of the operation would be considered a breach of duty.
Failure to administer prophylactic antibiotics
The failure to administer intravenous, intra-operative antibiotic prophylaxis at the time of a TOT/TVT operation will be considered substandard medical practice. If this causes a patient to suffer harm – for example, a serious infection develops – there will be grounds for a medical negligence compensation claim.
If this is something that has affected you, it is important you speak to a solicitor about your options. If you are advised that there is a case of negligence, you will be entitled to pursue a claim for compensation.
Contact us today
At Glynns Solicitors we specialise in clinical negligence claims (otherwise known as medical negligence claims). We will be able to advise you upon your prospects of success, suggesting whether could pursue a claim for damages. If we believe there is a case to be answered, we can begin the claims process on your behalf, handling the entire claim from start to finish.
To talk to a solicitor, please get in touch with us today.
Bookmark This Article?
Can We Help You With A Medical Negligence Enquiry?
Early legal assistance can be vital so please contact us if you would like to discuss your situation. Please call us free on 0800 234 3300 (or from a mobile 01275 334030) or complete our Online Enquiry Form.

---