Medical Negligence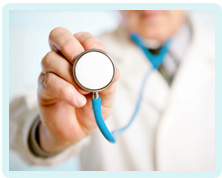 How Does Your Bowel Rupture?
A ruptured bowel must be diagnosed and treated without delay or faeces will leak into the abdominal cavity and cause a severe infection.
Causes of a ruptured bowel
There are a number of ways in which a bowel can rupture. The three most common causes are:-
1. Traumatic incident: during a serious traumatic incident (such as a car crash) it is possible to damage the internal organs, including the bowel. If this happens doctors must be sure to identify the injury soon after the patient presents to hospital.
2. Illness: some chronic conditions can damage the bowel. These might include ulcerative colitis and Crohn's disease. In some patients the damage will be such that a significant weakness occurs, eventually leading to a hole in the wall of the bowel. This will quickly result in the symptoms of a ruptured bowel which doctors should recognise without delay.
3. Surgical injury: many abdominal operations carry the risk of bowel damage. A patient should be informed of this risk before signing the consent form. If the bowel is accidentally nicked or cut during the course of a surgical procedure, it must be repaired immediately, before the surgical wound is sutured together.
When can you claim for a ruptured bowel?
The occurrence of a ruptured bowel will not necessarily amount to negligence. Of course medical professionals cannot prevent a ruptured bowel that happens due to illness or a traumatic incident. Even during surgery it is not always possible to avoid causing injury to the bowel.
However, if the surgeon is found to have acted without the skill and expertise that would be expected of a reasonably competent surgeon, there will be grounds for a medical negligence claim. This is because the medical practitioner will not have provided an acceptable standard of care, thereby causing the patient to suffer injury.
A compensation claim may also arise if doctors fail to diagnose a ruptured bowel in a reasonable amount of time. Ideally a ruptured bowel that is sustained during surgery should be diagnosed there and then. If not, a patient will develop severe abdominal pain, vomiting and fever soon after an operation. These are classic indicators of a ruptured bowel and no time should be wasted in taking the patient back to theatre to perform a repair. If there is a failure to do so and a patient becomes increasingly unwell, the standard of care will be considered negligent.
Speak to a solicitor today
To find out more about claiming compensation for a ruptured bowel, contact a medical negligence solicitor today.
Bookmark This Article?
Can We Help You With A Medical Negligence Enquiry?
Early legal assistance can be vital so please contact us if you would like to discuss your situation. Please call us free on 0800 234 3300 (or from a mobile 01275 334030) or complete our Online Enquiry Form.

---