Medical Negligence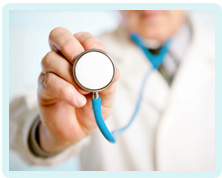 GP Failure To Refer Cervical Cancer Patient
If your GP failed to refer you to a gynaecologist, despite the fact you were displaying the characteristic symptoms of cervical cancer, you could be entitled to claim compensation for the terrible impact this has had. Contact a medical negligence solicitor to find out more.
Cervical cancer diagnosis
Cervical cancer is often spotted during routine cervical smears, which are offered to every woman in England between the ages of 25 and 64.
However, a woman may develop symptoms associated with cervical cancer in between these routine tests, which usually occur every three years. These symptoms include:-
Unusual vaginal bleeding, such as after sex or in between periods
Pain and discomfort during sex
Unusual vaginal discharge
If a woman has an abnormal smear test, or she presents with the aforementioned symptoms, she should be investigated for cervical cancer. This applies even if the patient is under the age of 25, which is the age at which women are invited for a smear test in England.
If cervical cancer is suspected, the first step will be to carry out a smear test. If this shows abnormal cell growth, a patient should be referred to a gynaecologist for a colposcopy. This will confirm whether or not the cells are cancerous.
GP failure to refer
Unfortunately, GPs do not always recognise the signs of cervical cancer. This may occur because a GP believes the symptoms to be caused by another condition – such as a sexually transmitted disease (STI). Or it may be that a patient is under the age of 25 and so the GP refuses to perform a smear test.
Whatever the reason, a missed diagnosis will be considered negligent. A GP should immediately appreciate the possible implications of a patient's symptoms and investigate a diagnosis of cervical cancer. If a patient is under the age of 25, she should be referred to a gynaecologist. If a patient's smear test results are abnormal, she too should be referred to a gynaecologist.
Cervical cancer claims
If a GP fails to refer a patient with the symptoms of cervical cancer and she is later diagnosed with the disease, there will be a case of medical negligence. If this has happened to you, please get in touch with us to discuss what action you can take next. If we suspect your GP acted negligently in failing to refer you to a gynaecologist, we will help you make a claim, obtaining the compensation you deserve.
Bookmark This Article?
Can We Help You With A Medical Negligence Enquiry?
Early legal assistance can be vital so please contact us if you would like to discuss your situation. Please call us free on 0800 234 3300 or complete our Online Enquiry Form.

---