Medical Negligence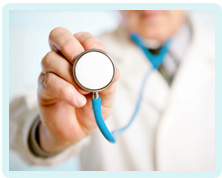 Did Your GP Fail To Diagnose Appendicitis?
Appendicitis is a common condition, and yet it is one that GPs regularly misdiagnose. If this is something that has happened to you, you could be in a position to make a medical negligence claim.
How to GPs fail to diagnose appendicitis?
Appendicitis is a condition in which the appendix (a small pouch attached to the large intestine) becomes infected and swollen. According to the NHS, around 7% of people will have appendicitis in their lifetime, making it a relatively common condition. But despite this, it is one that General Practitioners often fail to diagnose in the early stages.
This is because appendicitis will initially cause someone to experience symptoms such as abdominal pain, fever and vomiting. These symptoms are very similar to other commonplaces illnesses such as a urinary tract infection and gastroenteritis. Many GPs will therefore listen to a patient's complaints and immediately diagnose one of these more minor conditions.
However, this is not an appropriate standard of care, as a GP must carry out the necessary tests to confirm that the correct diagnosis has been made. A blood test, urine test and possibly a stool sample should be taken and sent to the laboratory. This will show whether or not a patient does have a urinary tract infection (or whatever condition has been diagnosed).
If the results of these tests do not support the suspected diagnosis, a GP should quickly revise their position and begin to consider the possibility of appendicitis. GPs should know that the early symptoms of appendicitis are very similar to more minor condition and a diagnosis of appendicitis should never be ruled out.
What happens if a diagnosis is delayed?
But unfortunately not all GPs take this course of action. Instead a patient is sent away with the wrong diagnosis, only to get progressively worse. Some will even return to their GP again, only to be sent away yet again, when in actual fact he or she should be referred urgently to hospital.
This is very dangerous, as appendicitis must be treated immediately if a patient is going to avoid complications. As long as an early diagnosis is made, keyhole surgery can be performed and the appendix removed.
But if there is a delay, the patient will be subject to prolonged pain and suffering, and their appendix may even rupture. When this happens, open abdominal surgery will be required, leaving an unsightly scar. Furthermore, a patient will become extremely unwell and may not even make it through.
What action should you take?
If you have suffered these consequences because of a delay in diagnosing appendicitis, you will be the innocent victim of medical negligence. You will therefore be entitled to pursue a medical negligence claim for compensation.
Bookmark This Article?
Can We Help You With A Medical Negligence Enquiry?
Early legal assistance can be vital so please contact us if you would like to discuss your situation. Please call us free on 0800 234 3300 (or from a mobile 01275 334030) or complete our Online Enquiry Form.

---