Medical Negligence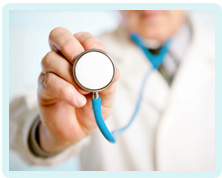 GP Fails To Diagnose Crohn's Disease
If a delayed diagnosis of Crohn's Disease caused you to suffer serious complications, you could be entitled to pursue a claim for compensation. Get in touch with us to find out more.
Crohn's Disease
Crohn's Disease is an inflammatory bowel disease that can affect any part of the gastrointestinal tract, from the mouth to the anus. About 30 people in each 100,000 of the population will have Crohn's Disease.
Crohn's Disease often runs in families, with around 10% of patients having a family history of inflammatory bowel disease. Presentation is typically between the age of 15 and 35 years, while women are more commonly affected than men. Symptoms normally include:-
Abdominal pain
Weight loss
Diarrhoea
The abdominal pain is usually colicky and associated with loud bowel sounds and abdominal distension. It may be made worse by food. It is not usually restricted to the upper abdomen; rather, colicky pain is usually across the abdomen and makes the patient want to bend double. A minority of patients present with frequent bloody stools and mucus.
The cause of the symptoms may not be established for some time after their onset.
Diagnosing Crohn's Disease
If a person presents to their GP with these symptoms, Crohn's Disease or other inflammatory bowel disease should be suspected. When such conditions are suspected, referral is mandatory for investigation and treatment. Typically examination of the abdomen will be normal but occasionally there may be tenderness or even a mass.
A competent GP will refer someone who has persistent indications of irritable bowel syndrome and/or abdominal pain. 'Persistent' typically means symptoms that last for more than four weeks. It is common practice to take a specimen of faeces for culture and sensitivity prior to referral.
Unless there are positive indications of irritable bowel syndrome it is mandatory to refer someone with persistent abdominal pain and diarrhoea.
Delayed diagnosis of Crohn's Disease
If Crohn's Disease is not managed appropriately, serious complications may arise. These include:-
Bowel strictures causing an obstruction
A fistula, linking the bowel to the bladder/vagina/skin
Bowel perforation
Colonic carcinoma
Renal disease
If such complications occur because a GP fails to refer a patient to a gastroenterologist, the level of care will be considered substandard. Because this has caused a patient wrongful injury, there could be grounds for a medical negligence compensation claim.
To find out if you could claim compensation for Crohn's Disease, please get in touch with us today.
Bookmark This Article?
Can We Help You With A Medical Negligence Enquiry?
Early legal assistance can be vital so please contact us if you would like to discuss your situation. Please call us free on 0800 234 3300 (or from a mobile 01275 334030) or complete our Online Enquiry Form.

---