Medical Negligence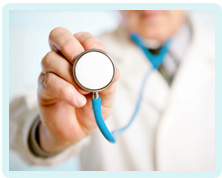 GP Appendicitis Claims
If your GP failed to refer you for the symptoms of appendicitis, you could be entitled to pursue a claim for compensation. Contact us today for more information.
Recognising appendicitis
Appendicitis can be a difficult condition to diagnose, as the symptoms are very similar to other, more minor conditions. Appendicitis is commonly confused with illnesses such as a urinary tract infection or gynaecological issues.
For this reason it is essential that a patient with the symptoms of appendicitis is tested for a variety of conditions. This will ensure the correct diagnosis is obtained, and will prevent a patient with acute appendicitis being discharged without the necessary treatment.
Tests should include a urine test, to check for a bladder infection, and a blood test, to check for a raised CRP count. Women may also be given a pelvic examination and a pregnancy test to rule out gynaecological issues.
If these tests point towards a possible diagnosis of appendicitis, a patient should be urgently referred to hospital.
GP failure to refer appendicitis patient
Unfortunately, however, a GP will not always refer a patient with appendicitis. Instead a GP will misdiagnose a patient's condition and discharged them – either with a course of medication or with no treatment whatsoever.
If a patient does indeed have appendicitis, this misdiagnosis will be extremely dangerous. This is because appendicitis is a medical emergency, meaning it must be treated urgently if serious complications are to be avoided.
If there is a delay in surgical intervention, the appendix will fill with pus, becoming increasingly large in size. Eventually the appendix will burst – something which is known as a ruptured or perforated appendix.
A perforated appendix is very problematic as the pus will spill into the abdominal cavity. This will infect the lining of the abdomen (called the peritoneum), leading to a severe infection called peritonitis. This will make a patient critically unwell.
Appendicitis claims
If you have suffered a ruptured appendix because your GP failed to refer you to hospital, you could be entitled to pursue a claim for compensation.
Any reasonably competent General Practitioner should be able to recognise the signs and symptoms of appendicitis, and know when to refer a patient with these symptoms. A failure to do so will amount to a substandard level of medical care.
To find out more about claiming compensation for appendicitis, please get in touch with us today to speak to a solicitor.
Bookmark This Article?
Can We Help You With A Medical Negligence Enquiry?
Early legal assistance can be vital so please contact us if you would like to discuss your situation. Please call us free on 0800 234 3300 or complete our Online Enquiry Form.

---