Medical Negligence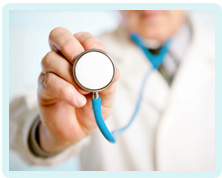 Failure to Diagnose Septic Arthritis
If medical practitioners fail to diagnose septic arthritis, resulting in an amputation of the limb, there will be grounds for a compensation settlement. Contact a medical negligence solicitor to find out more.
Delayed diagnosis of septic arthritis
Septic arthritis is when a joint becomes infected with bacteria. This causes the joint to become inflamed, hot to touch and painful. If left untreated, the bacteria will continue to multiply, leading to further inflammation, vomiting and diarrhoea.
If the bacteria reach the bloodstream, a patient may also develop septic shock, renal failure and low blood pressure. These consequences can be fatal, so it is essential that early treatment is provided. Furthermore, the joint will be so badly damaged that it cannot be saved, necessitating an amputation of the limb.
Diagnosing septic arthritis
To prevent these potentially life-threatening complications, septic arthritis must be diagnosed as soon as a patient presents to a healthcare environment. Medical practitioners should be able to achieve this by considering a patient's symptoms, which will include a swollen joint that is red and hot to touch. There will also be a fever with vomiting and diarrhoea.
The presence of an infection can be confirmed with some simple tests. For example, a blood test will show high levels of C-reactive protein and a blood pressure test will reveal hypotension (low blood pressure). Blood cultures should also be sent to the laboratory to confirm the type of bacteria causing the infection. Septic arthritis is usually caused by the staphylococcal or streptococcal bacteria; if these are found, a positive diagnosis of septic arthritis can be verified.
Failure to diagnose septic arthritis
Unfortunately medical practitioners do not always manage to diagnose septic arthritis in a timely fashion. Often a patient's symptoms are mistaken for another condition, such as cellulitis or an allergic reaction to other medication. This can happen even if a patient's symptoms and test results are consistent with septic arthritis.
As a result of a delayed diagnosis, a patient is not given the treatment that is so desperately needed. This will usually include intravenous antibiotics and an emergency washout of the joint. If this delay in diagnosis and treatment leads to serious consequences – such as an amputation – there will be grounds for a medical negligence claim.
To make a claim for septic arthritis, please get in touch with us today. If we believe that a negligent failure to diagnose caused unnecessary complications, we will help you pursue a claim for compensation.
Bookmark This Article?
Can We Help You With A Medical Negligence Enquiry?
Early legal assistance can be vital so please contact us if you would like to discuss your situation. Please call us free on 0800 234 3300 or complete our Online Enquiry Form.

---