Medical Negligence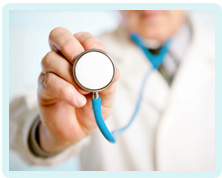 Examination After Vaginal Delivery
Soon after a vaginal birth, it is essential a vaginal and rectal examination be performed. While this will be one of the last things a new mother will want, it is vital to ensure any damage is quickly spotted. If there is failure on the part of medical professionals to perform such an examination, and an injury is present, a woman will be left with serious complications. This in turn could lead to a medical negligence claim.
"Before we contacted you we had no real idea that we had grounds for a medical negligence claim but after speaking to you it became clear that Wendy was indeed treated poorly. Chris Bird took the time to explain what was happening and kept us to speed. Our deepest gratitude to you all and Chris in particular."
Mr And Mrs H
If you have suffered a perineal tear and would like advice about a possible medical negligence claim, please call us on 0800 234 3300 (or from a mobile 01275 334030) or complete a Free Online Enquiry.
What Should The Examination Involve?
A post-delivery examination should be performed according to the following procedure:-
Informed consent should be obtained from the woman for a vaginal and rectal examination;
There must be good exposure of the perineal injury, with good lighting in place;
Adequate pain relief should be administered beforehand;
A visual examination should then be followed by a vaginal examination to establish the full extent of injury;
A rectal examination should then be performed to exclude injury to the anorectal mucosa and anal sphincter;
If there is any uncertainty, a woman should be asked to contract her anal sphincter. If the anal sphincter is disrupted, there will be a distinct gap felt in the anterior aspect of the anus.
If an injury is subsequently identified, medical professionals must decide upon the extent of damage (ie. if there is a first, second, third or fourth degree tear). This will then determine the appropriate procedure for repair.
The Importance of Post-Delivery Examination
Every woman who has a vaginal delivery must undergo a post-delivery examination. This routine procedure is in place to ensure that a new mother is not sent home from hospital with an undiagnosed, and therefore untreated, injury. Indeed, a rectal examination is the only way to exclude third and fourth degree tears. Once such an injury is established, a repair can quickly be carried out in an operating theatre. On the balance of probabilities, a third or fourth degree tear that is repaired soon after delivery will be successful.
However, if there is a failure to perform an examination, then third and fourth degree tears will go unnoticed by medical professional. A woman will be discharged completely unaware of her injury. Soon afterward, however, she will begin to develop complications such as incontinence of faeces and flatus, faecal urgency, infection and pain. These complications can continue in the long-term, while it is likely that surgery will be required to repair the damage.
Undiagnosed Third and Fourth Degree Tears – What Can You Do?
If you have suffered as a result of an undiagnosed third or fourth degree tear, you need to seek legal advice as soon as possible, as you could be entitled to make a claim. A medical negligence solicitor will be able to listen to the details of your case before suggesting what options are available to you. If you are able to make a claim, you could receive compensation for the pain and suffering you have experienced.
Can We Help You With A Medical Negligence Enquiry?
Early legal assistance can be vital so please contact us if you would like to discuss your situation. Please call us free on 0800 234 3300 (or from a mobile 01275 334030) or complete a Free Online Enquiry.

---