Medical Negligence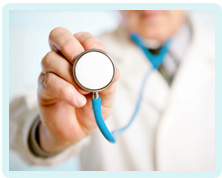 Ectopic Pregnancy Claims
If medical practitioners failed to diagnose your ectopic pregnancy, causing your fallopian tube to ruptured, you could be entitled to claim compensation for the damages incurred. Please get in touch with us to find out more.
Ectopic pregnancies
An ectopic pregnancy is when a fertilised egg (called an embryo) implants itself somewhere other than the lining of the uterus. Ordinarily, the embryo will get stuck in the fallopian tube.
This happens because the sperm fertilises the egg while it is still travelling down the fallopian tube to the uterus. The embryo then becomes embedded in the lining of the fallopian tube where it continues to grow.
Sadly, however, an embryo cannot survive anywhere other than the uterus. Some women will simply miscarry, often in the very early stages when they did not even realise they were pregnant.
In others, the embryo will continue to grow until the fallopian tube begins to stretch. This will be very painful and should indicate that something is wrong. Other symptoms include vaginal bleeding, shoulder tip pain, diarrhoea and vomiting.
Diagnosing an ectopic pregnancy
If a patient presents to their GP or hospital with these symptoms, the medical practitioner should suspect an ectopic pregnancy on their list of potential diagnoses.
To confirm or exclude a diagnosis, the first step should be to undertake a pregnancy test. If this is positive, further tests should be carried out ensure the correct diagnosis has been obtained.
As long as these steps are taken without delay, a patient will be treated before undue complications occur. But if treatment is withheld, the fallopian tube will expand until it cannot stretch any further. The fallopian tube will subsequently rupture, a complication that can be life-threatening.
It is therefore essential that an ectopic pregnancy is diagnosed and treated promptly, before the fallopian tube ruptures.
Claiming for an ectopic pregnancy
If medical practitioners fail to recognise the symptoms indicative of an ectopic pregnancy, and thus fail to carry out tests that would secure a diagnosis, there will be a substandard level of care. If this causes a patient to suffer unnecessary complications – such as a ruptured fallopian tube – there may be a case of medical negligence.
To find out if you could make a claim for a ruptured ectopic pregnancy, you need to speak to a solicitor as soon as possible.
Medical negligence lawyers
To talk to a lawyer about pursuing a medical negligence claim, please get in touch with us today.
Bookmark This Article?
Can We Help You With A Medical Negligence Enquiry?
Early legal assistance can be vital so please contact us if you would like to discuss your situation. Please call us free on 0800 234 3300 (or from a mobile 01275 334030) or complete our Online Enquiry Form.

---