Medical Negligence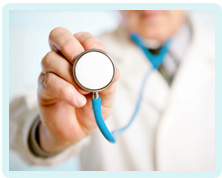 Duodenal Ulcer Claims
If your duodenal ulcer was not diagnosed and treated by medical professionals and this caused unnecessary injury, there will be grounds for a medical negligence compensation claim. Contact us today to find out more.
Duodenal ulcers
The duodenum is the first section of the small intestine. It is lined with a layer of mucous which helps to protect it against the acid used to digest food. However, sometimes the layer of mucous becomes too thin, leaving the lining exposed to the acid. This can corrode the lining of the duodenum, causing an ulcer to develop.
There are two main reasons why the balance between the mucous and the acid may become upset:-
1. H. pylori bacteria can get inside the intestine and lead to an infection. This is the most common cause of a duodenal ulcer;
2. Non-steroidal anti-inflammatory medication (NSAIDs), such as aspirin.
Diagnosing and treating a duodenal ulcer
Recognising the symptoms of a duodenal ulcer is the first step to making an accurate diagnosis. The symptoms include:-
A burning pain in the abdomen;
Indigestion;
Heartburn;
Loss of appetite;
Vomiting.
If a patient presents to their GP with these symptoms, investigations should be carried out to see whether or not an ulcer is present. If a patient has been taking NSAIDs, he/she should be referred for an endoscopy. Alternatively, if a patient does not have a history of taking NSAIDs, it is likely the cause is an H. pylori infection. This can be confirmed with a blood test, breath urea test and a stool sample.
Once diagnosed, a duodenal ulcer must be treated according to the underlying cause. If an H. pylori infection is to blame, a course of antibiotics will be needed. But if NSAIDs are the cause, a course of proton pump inhibitors will be required. With timely treatment, a duodenal ulcer can be effectively treated without surgical intervention.
Perforated duodenal ulcer claims
However, serious complications can ensue if treatment is not provided. This is because the acid will continue to corrode the duodenum until the lining actually splits open. This will allow the bacteria in the intestine to spill into the abdominal cavity, resulting in an infection called peritonitis. This is very serious and can lead to sepsis, organ failure and even death.
Therefore medical professionals must diagnose and treat a duodenal ulcer in a timely fashion. Any delay could result in devastating complications, which could have been avoided with early, non-invasive treatment.
If doctors do fail to make an accurate diagnosis – even though a patient presents with the typical symptoms of a duodenal ulcer – the level of care will have fallen below an acceptable standard. If this causes the patient unnecessary pain and suffering, there will be grounds for a duodenal ulcer claim.
To claim for a perforated duodenal ulcer, get in touch with us today.
Bookmark This Article?
Can We Help You With A Medical Negligence Enquiry?
Early legal assistance can be vital so please contact us if you would like to discuss your situation. Please call us free on 0800 234 3300 (or from a mobile 01275 334030) or complete our Online Enquiry Form.

---