Medical Negligence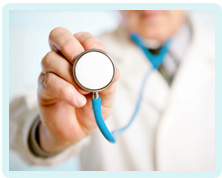 Diagnosing a Brain Haemorrhage in A&E
If you or your loved one has suffered because doctors in A&E failed to diagnose a brain haemorrhage, you could be entitled to claim compensation for the terrible damage this has caused. To find out more you need to talk to a solicitor who specialises in medical negligence claims.
Diagnosing a brain haemorrhage in hospital
The presentation of patients to the Accident and Emergency Department with the sudden onset of severe headache is a well-recognised risk area of risk in emergency medicine practice. A presentation of this nature would be widely regarded as indicative of a significant neurological event, for example a brain haemorrhage.
As such, presentation of this nature requires appropriate investigations which include a CT scan as the initial investigation of choice. This should be carried out as a matter of urgency. If the scan is normal, a lumbar puncture should be performed. Together these investigations will ensure a timely diagnosis.
Wrong diagnosis of a brain haemorrhage
Only if the CT scan and lumbar puncture are normal can a diagnosis other than a brain haemorrhage be made. Differential diagnoses might include:-
Migraine;
High blood pressure;
Meningitis;
Stroke or mini-stroke;
Encephalitis.
However, it is important to note that unless and until such investigations have been undertaken and found to be normal, then a differential diagnosis (such as a migraine) is fundamentally unsafe.
Given the implications of a misdiagnosis it is necessary to err on the side of caution. All patients with a severe headache should therefore be investigated for a possible brain haemorrhage.
Failure to diagnose brain haemorrhage in A&E
When a patient presents to A&E with a sudden onset of a severe headache, the expected standard of care would include:-
1. Discussion with a more senior doctor in the Emergency Department of the duty Medical Registrar;
2. Arrangements made for a CT scan, preferably on the same day;
3. Admit the patient under the care of the medical team;
4. If the CT scan is normal, perform a lumbar puncture.
If this standard of care if not achieved by an A&E department and a brain haemorrhage therefore remains undiagnosed, there will be a case of medical negligence. This means the standard of care has fallen below an acceptable level, causing a patient to suffer unnecessary harm.
If this is something that has affected you or your loved one, you need to speak to a solicitor about what action you can take. You could be entitled to pursue a claim for compensation, helping you to recover the money you have lost due to medical error.
Bookmark This Article?
Can We Help You With A Medical Negligence Enquiry?
Early legal assistance can be vital so please contact us if you would like to discuss your situation. Please call us free on 0800 234 3300 (or from a mobile 01275 334030) or complete our Online Enquiry Form.

---