Medical Negligence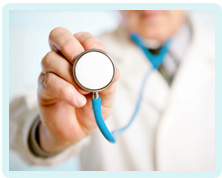 Delayed Diagnosis of Ovarian Cancer
If you have suffered a delayed diagnosis of ovarian cancer, despite seeking medical attention for your symptoms, you could be entitled to pursue a medical negligence claim. To find out more you need to talk to a solicitor without delay.
Diagnosing ovarian cancer
Ovarian cancer is often dubbed 'the silent killer' because it has very few symptoms in the early stages. Frequently the tumour is very large by the time a woman actually seeks advice from her GP. Consequently treatment becomes much more extensive and the prognosis for recovery becomes much less favourable.
Even if any physical complaints are present, these are often very similar to more minor conditions such as irritable bowel syndrome and kidney infections. There is often a delay while medical practitioners explore these differential diagnoses, allowing the tumour to grow even larger.
Claiming for a delayed diagnosis of ovarian cancer
However, if a woman is displaying the typical signs of ovarian cancer, tests should be carried out to confirm or rule out this possibility. Common symptoms include:-
Constant bloating of the abdomen;
Eating less but feeling fuller;
Abdominal pain;
Back pain;
Needing to urinate more frequently.
If a woman presents to her GP with these problems, she should be investigated for ovarian cancer. A blood test will reveal any chemical imbalances, while an ultrasound scan will readily identify any tumours or cysts present.
If medical professionals fail to take this course of action, instead diagnosing a woman with a more minor condition, there could be grounds for a medical negligence claim. This will be especially true if a patient repeatedly sought assistance for her symptoms but a doctor did not consider the possibility of ovarian cancer, and thus did not carry out any tests that would reveal a misdiagnosis.
Get expert legal advice
If you have suffered because of a late diagnosis of ovarian cancer and you believe doctors are to blame for the delay, you need to talk to a solicitor.
A legal expert who specialises in this area of the law will be able to say whether doctors breached their duty of care in failing to diagnose your ovarian cancer in a timely fashion. If there is a breach of duty and this has caused you further injury, you will be entitled to claim compensation. Although this will not undo the damage that has been done, it will recompense for the pain and suffering you have experienced, and recover the money you have lost.
Bookmark This Article?
Can We Help You With A Medical Negligence Enquiry?
Early legal assistance can be vital so please contact us if you would like to discuss your situation. Please call us free on 0800 234 3300 (or from a mobile 01275 334030) or complete our Online Enquiry Form.

---