Medical Negligence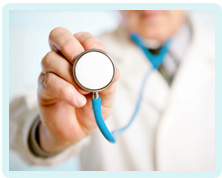 Delayed Diagnosis of Lower Limb Ischaemia
If lower limb ischaemia is not diagnosed and treated in time, a patient may need to undergo an amputation. If this has happened to you, you could be entitled to pursue a claim for compensation. Contact a solicitor today for more information.
Treating lower limb ischaemia
Lower limb ischaemia is when the arteries in the leg become blocked, starving the leg of blood and oxygen. Lower limb ischaemia may be chronic (long-standing) or acute (sudden onset).
Chronic lower limb ischaemia is often caused by the hardening of the arteries, a condition called atheroma. Atheroma is commonly associated with smoking, diabetes, high blood cholesterol and high blood pressure.
A patient can live with chronic lower limb ischaemia, as the condition can be managed with lifestyle changes and blood pressure mediation. However, it is possible for the condition to become severe, resulting in critical ischaemia. At this stage surgical intervention is required.
Acute lower limb ischaemia is often caused by a catastrophe such as a blood clot that has travelled to the arteries (called an embolism), a haematoma or thrombosis. Sudden thrombosis of the vessel is also associated with atheroma.
A patient with acute lower limb ischaemia cannot live with the condition. It is a medical emergency necessitating emergency surgical treatment.
Delay in diagnosis and treatment of lower limb ischaemia
If chronic lower limb ischaemia leads to critical ischaemia, a delay in diagnosis of a few days is acceptable. Any longer and the skin may break down irreparably, leading to a leg ulcer which cannot be healed. The limb may also be so starved of oxygen that the leg, foot or toe becomes gangrenous and must be removed.
With regards to acute lower limb ischaemia, a delay in diagnosis of a few hours is acceptable. After six to eight hours, the muscle and tissue will begin to die. Within 24 hours the damage will be so extensive that an amputation is required.
If medical practitioners fail to diagnose lower limb ischaemia within a reasonable amount of time, leading to an amputation of the limb, there will be a case of medical negligence. If this has happened to you or your loved one, be sure to talk to a medical negligence solicitor about the care you received. You could be entitled to claim compensation.
Claiming compensation for lower limb ischaemia
For more information on claiming compensation for lower limb ischaemia, please get in touch with us today.
Bookmark This Article?
Can We Help You With A Medical Negligence Enquiry?
Early legal assistance can be vital so please contact us if you would like to discuss your situation. Please call us free on 0800 234 3300 or complete our Online Enquiry Form.

---