Medical Negligence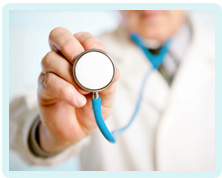 Death of Newborn Baby After Infection
If your newborn baby died of an infection and medical practitioners failed to administer antibiotics, there may be grounds for a medical negligence claim. Please get in touch with us today to find out more.
Preventing infection of newborn baby
If a mother is in labour and she is at risk of having an infection, she should be given antibiotics. Factors that increase the risk of early onset neonatal infection include:
Prematurity, the risk of which increases with decreasing gestation and birth weight
Spontaneous preterm onset of labour (before 37 weeks)
Spontaneous preterm rupture of membranes
Prolonged rupture of membranes increasing with duration of more than 12 hours
Therefore one of the main indications of infection is preterm labour. A mother who goes into labour prematurely should be administered a suitable type of antibiotic. If she is allergic to the antibiotic of choice, a substitute should be found.
This will reduce the chance of the infection being passed vertically from mother to baby. The Cochrane Library reviewed antibiotic use in preterm labour in more than 6,000 women in 19 trials. The analysis found that antibiotic use in preterm premature rupture of membranes (PROM) was associated with a reduction in major neonatal co-morbidity conditions or indicators such as neonatal infection.
In other words, the use of antibiotics will significantly delay the onset of delivery and will reduce the risks of neonatal infection.
Antibiotics should also be administered to the baby when it is born. Clinicians should not wait until a baby is displaying signs of infection. Rather, if there is any indication that could put a baby at risk of infection, antibiotics should be prescribed and administered without delay, certainly within one hour.
Substandard level of care
If medical practitioners fail to recognise that a mother is at-risk of infection, and therefore fail to administer the mother and/or baby with antibiotics, the standard of care will have fallen below an acceptable standard.
Should this result in the tragic consequence of a neonatal death, there will be grounds for a medical negligence claim.
If your baby has died due to negligent medical treatment, we understand just how angry and upset you will be feeling. Although a claim cannot undo the terrible trauma you and your family will have endured, it may help to provide some form of redress, and will help to prevent further mistakes being made in the future.
Contact us today
To talk to a solicitor about making a medical negligence claim, please get in touch with us today.
Bookmark This Article?
Can We Help You With A Medical Negligence Enquiry?
Early legal assistance can be vital so please contact us if you would like to discuss your situation. Please call us free on 0800 234 3300 (or from a mobile 01275 334030) or complete our Online Enquiry Form.

---