Medical Negligence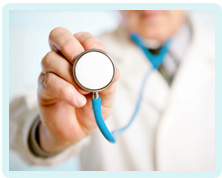 Compensation for a Ruptured Ectopic Pregnancy
If your ectopic pregnancy was not diagnosed in a timely fashion, causing your fallopian tube to rupture, you could be entitled to compensation for the pain and suffering you have experienced. To find out more, you need to talk to a medical negligence solicitor as soon as possible.
What is a ruptured ectopic pregnancy?
In a normal pregnancy the egg will be fertilised by the sperm in the fallopian tube to make an embryo. The embryo then moves down into the uterus and implants into the uterus wall, after which it will develop into a baby.
But in an ectopic pregnancy the embryo fails to reach the uterus, instead implanting itself into the wall of the fallopian tube. In many cases the embryo will then die, often before a woman even realises that she is pregnant. On other occasions it will continue to grow, just as it would if it were inside the uterus.
However, the fallopian tube is a very narrow structure. Therefore when the embryo grows the tube will stretch, causing abdominal pain, shoulder-tip pain and diarrhoea. The fallopian tube can only stretch so far, so if the embryo is not removed at this stage the tube will eventually rupture. This is known as a ruptured ectopic pregnancy and is a medical emergency.
Diagnosing a ruptured ectopic pregnancy
It is important for an ectopic pregnancy to be diagnosed before the fallopian tube ruptures, as the problem can be treated via medication rather than surgery. More importantly the patient's life will not be put in danger.
Often the embryo will die in the early stages and a woman will not realise she had an ectopic pregnancy. But if this does not happen within six to ten weeks, symptoms will appear. This should prompt a woman to seek medical assistance, even if she does not realise that she is pregnant.
If a patient is displaying the typical signs of an ectopic pregnancy, further tests should be carried out immediately to confirm whether this diagnosis is correct. A quick urine test will verify if she is pregnant, and if so, a scan should be performed to check whether the embryo is lying in the fallopian tube. Once diagnosed an appropriate course of treatment can be provided.
Claiming for a ruptured ectopic pregnancy
Unfortunately, however, medical professionals do not always diagnose an ectopic pregnancy in the early stages, even though a patient has sought help for her symptoms. Consequently the embryo will continue to grow, eventually splitting the fallopian tube.
A ruptured ectopic pregnancy is a very serious situation because it will cause heavy internal bleeding, something which can be fatal. An operation will be required to stem the blood loss and remove the fallopian tube, leading to a prolonged recovery and significant emotional trauma for the patient.
If you or your loved one has suffered because of a ruptured ectopic pregnancy, you need to talk to a solicitor about claiming compensation.
Bookmark This Article?
Can We Help You With A Medical Negligence Enquiry?
Early legal assistance can be vital so please contact us if you would like to discuss your situation. Please call us free on 0800 234 3300 (or from a mobile 01275 334030) or complete our Online Enquiry Form.

---