Medical Negligence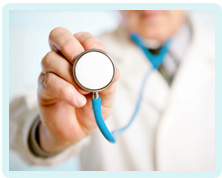 Compensation for Ogilvie's Syndrome
If medical practitioners failed to diagnose you with Ogilvie's Syndrome, causing you to suffer complications, you could be entitled to pursue legal action. Contact us today for more information.
Diagnosing Ogilvie's Syndrome
Ogilvie's Syndrome is when the bowel cannot push food through colon (large intestine), causing a build-up of food. This pseudo-obstruction of the bowel will cause symptoms such as:-
Abdominal pain
Nausea and vomiting
Intermittent constipation
Significant abdominal distension
These symptoms should prompt medical practitioners to consider a variety of conditions, including Ogilvie's Syndrome. A diagnosis can be secured by taking a thorough history of a patient's symptoms and undertaking a full examination. This should include a digital rectal examination, which will confirm the presence of an empty, air-filled rectum.
The examination/test results, along with a patient's symptoms, should result in a patient being sent for an abdominal x-ray. This will reveal features of a bowel obstruction, allowing medical practitioners to confirm a diagnosis of Ogilvie's Syndrome.
Failure to diagnose Ogilvie's Syndrome
However, there are times when medical professional fail to appreciate a patient's symptoms, mistaking a patient's condition for a more minor illness. There are also occasions when a patient is sent for an abdominal x-ray, but the results are erroneously interpreted as clear.
A failed or delayed diagnosis of Ogilvie's Syndrome will be very problematic, as food will continue to build-up in the colon. Consequently the colon will become so swollen that it actually bursts, causing food and waste products to spill into the abdominal cavity. This will make a patient critically unwell, leading to complications such as peritonitis, sepsis and potentially even organ failure.
Claiming for Ogilvie's Syndrome
If you or your loved one has suffered a burst bowel (also called a perforated bowel) because doctors failed to diagnose you with Ogilvie's Syndrome, you could be entitled to pursue a claim for negligence.
This is because a competent medical practitioner should be able to recognise a patient's symptoms as being indicative of a bowel complaint. A series of examinations and tests should then be carried out to secure the correct diagnosis. This should include an x-ray, which a competent medical practitioner should accurately interpret as showing signs of bowel obstruction.
If there is a failure to make a diagnosis in a timely fashion, despite the fact a patient is showing the characteristic symptoms of Ogilvie's Syndrome, the standard of care will be considered unacceptable. If this has caused a patient to suffer harm, and this would have been avoided with an earlier diagnosis, there will be grounds for a compensation claim.
Contact us today to find out more.
Bookmark This Article?
Can We Help You With A Medical Negligence Enquiry?
Early legal assistance can be vital so please contact us if you would like to discuss your situation. Please call us free on 0800 234 3300 or complete our Online Enquiry Form.

---