Medical Negligence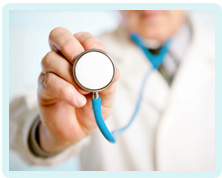 Compensation for GP Negligence
If you have been harmed because your GP has acted negligently, you could be entitled to claim compensation for the pain and suffering you have experienced.
Types of GP negligence
GPs deal with a wide variety of medical complaints every day and, for the most part, provide their patients with a good standard of care.
However, there are times when a GP will make an error that results in terrible complications for a patient. There are a number of ways in which a GP's actions could be considered negligent, with some of the most common including:-
Failure to diagnose a patient's condition
Prescription error
Prescribing medication that is harmful to the patient
Failure to monitor a patient's condition with routine tests
Failure to refer a patient to a specialist
GP negligence – what action can you take?
If you believe your GP has acted negligently, you need to talk to a solicitor that specialises in medical negligence. During an initial enquiry, a solicitor will ask about the details of your treatment and the injury you have sustained.
Once the necessary information has been obtained, you will be advised as to whether or not you have been the victim of medical negligence. If you have, it means that your GP has provided you with a substandard level of medical care and this has caused you to suffer unnecessary injury.
Compensation for GP negligence
If you are told that you are able to pursue a claim, your solicitor will handle the case on your behalf. He or she will collect all the evidence to support your claim, including witness statements, your medical records and a medical expert report.
Your solicitor will then calculate a sum of compensation that is appropriate for the damage you have sustained. This is made up of two separate elements: your general damages and your special damages.
Your general damages reflect the pain, suffering and loss of amenity. Your solicitor will assess the evidence to gauge the level of physical and emotional you have endured. He or she will then look at legal guidelines to determine a suitable sum of general damages.
Your special damages reflect the actual financial loss you have incurred as a direct result of your GPs negligence. This can include past and future loss of earnings, the cost of medical treatment and the cost of travelling to receive treatment. Your solicitor will calculate your special damages in a document called a schedule of special damages.
Talk to a solicitor today
To find out whether you are entitled to claim compensation for GP negligence, get in touch with a solicitor today.
Bookmark This Article?
Can We Help You With A Medical Negligence Enquiry?
Early legal assistance can be vital so please contact us if you would like to discuss your situation. Please call us free on 0800 234 3300 (or from a mobile 01275 334030) or complete our Online Enquiry Form.

---