Colorectal Cancer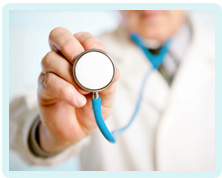 Colorectal Cancer Failure To Diagnose
A delay in diagnosis or a failure to diagnose colorectal cancer can have very serious consequences, including extreme weight loss, severe pain and discomfort, and in the most serious cases a shortened life expectancy. If this has happened to you or someone close to you, it is important to seek legal advice to discuss your options.
Diagnosing Colorectal Cancer
Colorectal cancer usually develops when non-cancerous growths or tumours (known medically as adenomatous intestinal polyps) appear in the colon, which can then become malignant over time. As the third most common cancer in men, the risk of developing colorectal cancer is higher in those over 50 years old, as well as those who smoke, have a low fibre diet, have ulcerative colitis, or a family history of colorectal cancer.
In the early stages, the benign growths or tumours on the colon may produce very few, if any, symptoms. However, as the disease develops the following symptoms may occur:-
Change in bowel movements;
Rectal bleeding;
Bloating;
Abdominal discomfort;
Weight loss.
Even if a patient does manifest the above symptoms, they may be mistaken for other illnesses, most commonly haemorrhoids, ulcerative colitis, inflammatory bowel disease and irritable bowel syndrome.
The detection of colorectal cancer therefore relies upon a number of diagnostic tests, including a digital rectum examination, a colonoscopy, and a barium enema.
Missed or delayed diagnosis can have serious consequences, as treatment of colorectal cancer in the early stages of the disease gives the patient a greater chance of making a full recovery. If diagnosed in the early stages, it is possible that the disease has been contained and has not spread beyond the colon. If this is the case, it may be that the surgical removal of the cancerous growth (polyp) is all that is required.
However, if left untreated the disease will advance through the intestinal wall to other parts of the body, most likely the liver, lungs, and lymph nodes. At this stage, a patient may experience further complications, such as high rates of blood loss via the rectum, weight loss, troublesome bowel movements, as well as pain and discomfort. It is also probable that a patient will not respond as effectively to treatment as he/she would have done had there not been a failure or delay in diagnosis.
Misdiagnosis of colorectal cancer (or a delay in diagnosis) can ultimately be extremely serious, leading to unnecessary pain and suffering, and in the most serious cases a shortened life expectancy. If you or a loved one has suffered as a result of a delayed/misdiagnosis, it is important that early legal help is sought to ensure that the best form of treatment is now being applied and to protect your prospects of claiming compensation from the negligent doctor or surgeon.
Can We Help You With A Medical Negligence Enquiry?
We understand that you may have unanswered questions. We are happy to help you. Please call us free on 0800 234 3300 (or from a mobile 01275 334030) or complete our Online Enquiry Form.
Bookmark This Article?
Can We Help You With A Cosmetic Surgery Negligence Enquiry?
Early legal assistance can be vital so please contact us if you would like to discuss your situation. Please call us free on 0800 234 3300 (or from a mobile 01275 334030) or complete our Online Enquiry Form.

---