Medical Negligence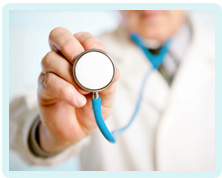 Claiming for Wrongful Amputation
If you have had a limb amputated because of negligent medical care, you will be entitled to claim compensation for the damaging effects this has had on your life. Contact a medical negligence solicitor to find out more.
Wrongful amputation
There are certain illnesses and diseases that damage the health of a limb, making the threat of amputation a real possibility. These might include chronic conditions such as diabetes, and severe infections such as necrotising fasciitis.
Sometimes there is nothing that can be done to avoid amputation and the arm or leg must be removed in order to prevent further harm.
However, there are also times when earlier medical treatment could have saved a limb from being amputated. Normally this happens because treatment is withheld due to medical error. Consequently a patient's condition deteriorates, making amputation necessary when it could otherwise have been prevented. This is known as wrongful amputation.
Claiming for wrongful amputation
If you or your loved one has had a limb amputated and you believe medical error is to blame, you need to speak to a solicitor about your options. A solicitor who specialises in medical negligence will be able to advise whether or not you have been the victim of substandard medical care. If so, you will be entitled to pursue a claim for compensation.
When you make a medical negligence claim, your solicitor will handle everything on your behalf. You will be required to make a witness statement, and possibly attend medical appointments with experts. Otherwise your legal representative will manage the entire case for you, working to get the compensation you deserve.
Compensation for wrongful amputation
If your case is successful, you will be awarded a sum of compensation to reflect the damage a wrongful amputation has had on your life. This will undoubtedly be significant, as an amputation can turn your entire world upside down, often making it difficult to work, socialise and continue with previous hobbies.
Compensation is awarded to recompense for the physical and emotional suffering you have endured. It is also there to recover the actual financial loss you have incurred because of the negligence, including a loss of earnings (past and future).
Solicitors for wrongful amputation
If you would like to know more about claiming for the wrongful amputation of a limb, please get in touch with us today. We are experts in the field of medical negligence and will help you get the compensation you deserve.
Bookmark This Article?
Can We Help You With A Medical Negligence Enquiry?
Early legal assistance can be vital so please contact us if you would like to discuss your situation. Please call us free on 0800 234 3300 (or from a mobile 01275 334030) or complete our Online Enquiry Form.

---