Medical Negligence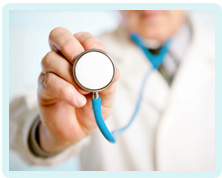 Claiming Against Your GP
If your GP has acted negligently, causing you to suffer wrongful injury, you will be entitled to pursue a claim for compensation. In this article we explore claiming against your GP in more detail.
GP negligence
When we have a health issue, our GP is normally the first port of call. As a result, GPs see an enormous amount of people every week, all of whom will have varying medical complaints.
Considering this, it is fair to say that GPs do, in the most part, provide a good standard of care. However, there are times when the standard will fall below an acceptable level, causing a patient to suffer unnecessary harm.
When a GP in breaches their duty of care and this results in a wrongful injury, there will be a case of GP negligence. Most commonly, GP negligence will relate to the failure to diagnose an illness or condition.
For example, a patient might attend their GP complaining of symptoms that are typical of cancer. But instead of sending a patient for further tests, a GP might wrongly diagnose a more minor illness and send the patient away. This delay will cause prolonged pain and suffering for the patient. It may also affect the eventual prognosis, shortening a patient's life expectancy.
Claiming against your GP
Anyone who is harmed by GP negligence will be legally entitled to pursue a medical negligence claim against the medical practitioner in question. Types of GP negligence claims include:-
Failure to diagnose;
Prescription errors;
Failure to refer for further tests/to a specialist;
Failure to accurately interpret test results;
Failure to monitor a patient with regular health checks – for example, a patient with kidney disease.
We understand that you might be worried about pursue a claim against your GP, especially if you have ongoing health problems and attend the surgery regularly. However, your GP cannot treat you any differently just because you are taking legal action. If you still feel uncomfortable about it but would like to make a claim, you can always move to a different GP surgery.
Can I make a claim against my GP?
To find out whether you can claim against your GP, you need to speak to a medical negligence solicitor today. After a short discussion, a solicitor will be able to suggest what options are open to you. If you are able to make a claim, your solicitor will handle this on your behalf, fighting to get the compensation you deserve.
Bookmark This Article?
Can We Help You With A Medical Negligence Enquiry?
Early legal assistance can be vital so please contact us if you would like to discuss your situation. Please call us free on 0800 234 3300 (or from a mobile 01275 334030) or complete our Online Enquiry Form.

---