Medical Negligence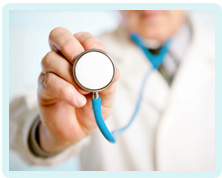 Chronic Diarrhoea
Persistent diarrhoea should be taken extremely seriously by healthcare professionals as it could have a serious underlying cause such as colon cancer. If doctors fail to investigation the matter further, leading to complications for the patient concerned, there may be grounds for a medical negligence claim.
To find out more about claiming compensation for substandard medical care, contact us today at Glynns Solicitors. We are experts in clinical negligence law and will be able to help you further, advising whether you can pursue legal action for the medical care you have received.
What is chronic diarrhoea?
Diarrhoea is when someone passes loose or liquid stools. Acute diarrhoea is when these symptoms occur for a brief period of time. Opposed to this, chronic diarrhoea is when these symptoms continue for a longer period of time. There are different definitions as to when persistent diarrhoea becomes chronic. Generally speaking, if the consistency of faeces remains abnormal for two weeks, a patient is said to have chronic diarrhoea.
Is chronic diarrhoea serious?
Chronic diarrhoea can be caused by a vast array of conditions, some serious and some benign. Potential causes of chronic diarrhoea include:
Irritable bowel disease, including Crohn's Disease, ulcerative colitis and diverticular disease
Food allergies such as coeliac disease and lactose intolerance
Pancreatitis
Overactive thyroid
Chronic infection such as C. Difficile and gastroenteritis
Medication such as laxatives and antibiotics
Cancer including colon and rectal cancer
Diabetes
Even if the underlying cause is benign, chronic diarrhoea can cause dehydration as the patient will be passing watery stools and therefore will be losing water. This means it is very important for the patient to take on a lot of fluids.
Investigating chronic diarrhoea
Because the underlying cause of chronic diarrhoea could potentially be serious, the problem must be properly investigated by healthcare professionals. A patient who presents with chronic diarrhoea should be asked for a full history of their symptoms, detailing how long the abnormal bowel movements have been happening and whether there are other accompanying symptoms.
In particular, doctors should be looking out for any red flag symptoms that indicate the presence of a serious condition such as cancer. These red flag symptoms include:
Unexplained weight loss
Rectal bleeding
Family history of cancer
If a patient is displaying red flag symptoms and chronic diarrhoea, tests must be carried out to confirm the underlying cause. The first step will be to perform a physical examination to check for a solid mass in the rectum or abdomen. Other tests must then be completed to help secure a diagnosis. For example, a blood test will show if there are raised inflammatory markers, an infection or anaemia. Stool cultures and an antibody test (to check for coeliac disease) may also be useful.
If there is any suspicion that a patient could have a serious condition, or their chronic diarrhoea does not go away, he/she must be referred on to a specialist. Where the patient has symptoms consistent with bowel cancer, he/she should be referred to hospital for a colonoscopy. This colonoscopy may need to be repeated if the chronic diarrhoea continues as it is possible that a tumour is too small to see during the first test.
Failure to investigation a patient's symptoms
Unfortunately there are times when a patient's chronic diarrhoea is not fully investigated. For some patients this not will be an issue as their condition will resolve without medical intervention – for example, gastroenteritis can settle without any medication.
But for some patients, the failure of healthcare professionals to investigate their chronic diarrhoea will have devastating consequences. This is particularly true of those who are later found to have cancer. Indeed, conditions such as cancer are best treated in the early stages or it will rapidly progress to the advanced stages. This makes it much more difficult to treat and can affect the ultimate prognosis.
What can you do?
If you or your loved one has come to harm because doctors failed to investigate your symptoms properly, you will understandably be very angry. Nothing you do will reverse the damage which has been done.
However, you may want to consider the possibility of pursuing a medical negligence claim. Taking legal action against those responsible is often cathartic for those affected by medical negligence as it allows you to obtain some form of redress. It will also help ensure mistakes are avoided in the future, improving the standard of care for other patients.
Can I make a claim?
To find out if you can make a claim for medical negligence, you need to talk to a solicitor who works in clinical negligence law. Your claim might involve one or more medical practitioner, such as your GP or doctors working at a hospital. Whatever the circumstances, a solicitor will be able to say whether you have wrongfully suffered as a result of medical negligence. If you are able to make a claim and you would like to proceed with legal action, your solicitor will begin the case for you, handling every stage until the claim settles.
Time limits when make a medical negligence claim
It should be noted that clinical negligence claims can take around two to three years to complete, so it is not a quick process.
Because of the amount of time it takes to settle a claim, anyone interested in taking legal action for medical negligence should speak to a solicitor without delay. The law states that medical negligence claims must be made within three years of the event. If this deadline is exceeded, it will not be possible to make a claim.
As mentioned above, a claim can take three years to settle, so it is best to talk to a solicitor at the earliest available opportunity. This will allow your solicitor a good amount of time to complete the claims process.
Expert legal advice for medical negligence
If you are looking for a solicitor who specialises in medical negligence claims, please get in touch with us at Glynns Solicitors. We are committed to helping the innocent victims of medical negligence and their families obtain the justice they deserve.
Can We Help You With A Medical Negligence Enquiry?
Early legal assistance can be vital so please contact us if you would like to discuss your situation. Please call us free on 0800 234 3300 (or from a mobile 01275 334030) or complete our Online Enquiry Form.

Bookmark This Article?
---