Medical Negligence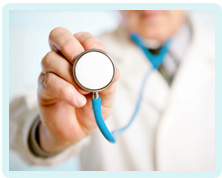 Can I Sue My GP?
If you have been harmed because of mistakes made by your GP, you could be entitled to make a claim for medical negligence. In this article we explore when and how you can sue your GP.
GP Negligence
The care provided by GPs is very varied. Because of this, there are many different forms of GP negligence, ranging from a failure to diagnose to a prescription error.
Therefore when considering whether or not you have grounds to make a claim, it is useful to know what medical negligence means. For negligence to have occurred, it must be possible to establish two things.
Firstly, that a general practitioner has breached their duty of care towards you. This is a duty bestowed upon all medical practitioners and means they must provide a standard of care that is deemed acceptable by a reasonably body of medical men.
Secondly, that this breach of duty caused you to suffer damage. This may be physical, psychological or financial injury.
Can I claim against my GP?
To find out for certain if you are able to claim against your GP, you need to talk to a solicitor who specialises in this area of the law. A medical negligence lawyer will ask you about the details of your care and the injuries you have sustained. If there is a case to be answered, your solicitor will pursue a claim on your behalf, working to get the compensation you deserve.
When looking for a solicitor to speak to about your claim, you must find someone who offers a free initial enquiry, and who is a specialist medical negligence lawyer (now called clinical negligence).
How do I sue my GP?
If you do make a claim against your GP, your solicitor will handle everything for you. You will need to make a witness statement, provide details of any loss of earnings and attend medical appointments with experts. Otherwise your solicitor will organise all the paperwork, correspondence and negotiation.
If you are still under the care of the GP you are suing, you should not worry. GPs are not allowed to treat you any differently just because you are taking legal action. If you feel uncomfortable, you can always move to a different practice. The most important thing is that you are properly compensated for the damages you have wrongfully incurred.
Medical negligence solicitors
To find out more about suing a GP, please get in touch with us today.
Bookmark This Article?
Can We Help You With A Medical Negligence Enquiry?
Early legal assistance can be vital so please contact us if you would like to discuss your situation. Please call us free on 0800 234 3300 (or from a mobile 01275 334030) or complete our Online Enquiry Form.

---